Barcelona to Valencia Bus Tickets

Explore the two beautiful destinations in Spain by booking Barcelona to Valencia bus tickets online on redBus. Experience the fantastic mild Mediterranean weather of Barcelona and the sunny beaches with the enthralling water sports that are available! Get immersed in the historical beauty of famous landmarks in Valencia, such as the Cathedral, the Central Market, Santa Catalina Church, the Basilica of Our Lady of the Forsaken, and the Llotja de la Seda.

Barcelona to Valencia Bus Route Distance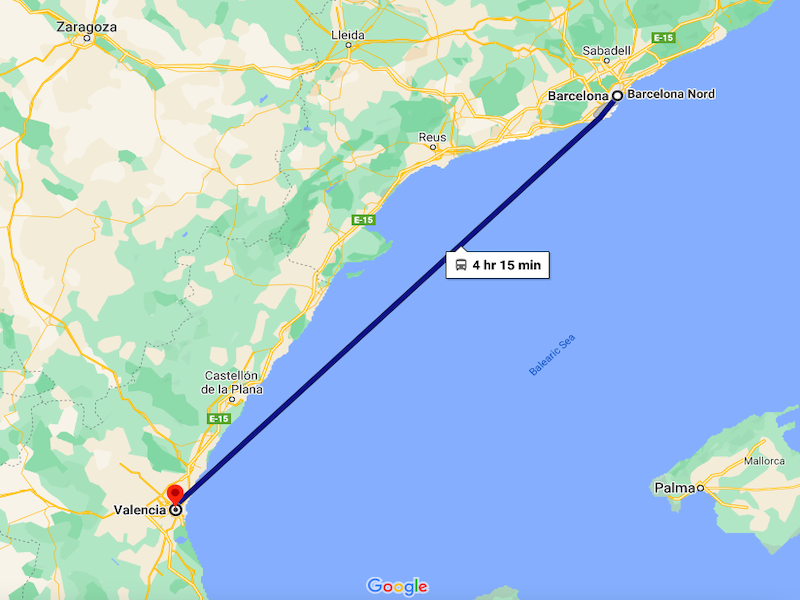 Book a Bus from Barcelona to Valencia

Barcelona is a house to many exemplary sites such as the Gothic Quarter and the breath-taking architecture left by Gaudí, imitated in the Park Güell and Sagrada Familia. The Las Ramblas also portrays the varied atmosphere of this city.

Valencia shows you the best of the art and sciences, along with the most creative building architecture. Turia Gardens, the Music Palace, one of Europe's best concert halls, the City of the Arts and Sciences are some of the must-visit places.

You can see the best of both cities by travelling on the Barcelona to Valencia bus with your friends and family. There are around 9 buses that run on an average daily in this route, so you can choose one according to your convenience. The average fare is around €24, and with redBus, you can choose between various bus operators in one place.

How to book Barcelona to Valencia bus tickets?

If you are a person who likes to do things on the go, then redBus is going to be your saviour for booking your tickets for all your trips. redBus provides with bus ticket booking option online and helps you have stress-free bus travel in any part of the world.

You can easily choose your favourite bus seats, bus type, boarding points, and top bus operators for any destination in just a few taps. This quick bus ticketing procedure makes redBus a popular choice among many travellers across the world. You can complete your transaction using the secured online payment in just a few moments.

Further, redBus also offers exciting online discounts, deals, and cashback when you book a bus ticket that makes your transactions even more worthwhile. Say goodbye to waiting for hours at crowded bus counters as redBus is here to save the day with their hassle-free booking experience and economical bus fares.

Wondering how to book tickets for your trip on Barcelona to Valencia bus at the redBus website or app? Follow these steps to book them in a few clicks easily:


Enter the Boarding point and Destination location in the "From" and "To" tab, respectively.
Enter the "Date of Departure" and hit the "Search" button.
From the search results that show the list of buses available, select a bus of your choice.
Select your preferred seat, boarding, and drop-off points and hit the "Proceed to Book" button.
Enter your details in the "Passenger Information" and "Contact Information".
You can also choose to insure your journey gets covered in case of an accident or loss of luggage.
After entering all the information, click "Proceed to Pay".
Enter the applicable discount code (if any), select your preferred mode of payment, and complete the transaction.

Once you complete the payment, you will obtain an M-ticket on your mobile and an e-ticket on the e-mail ID that was entered under "Contact Information."

Popular Bus Operators on Barcelona to Valencia Bus Route

There are various bus operators available to take from Barcelona to Valencia. The Alsa bus from Barcelona Valencia is a well-known bus operator. You can also opt for buses from other bus operators such as Alsa Supra, BlaBlaCar, and Infobus for a safe and relaxed journey. You can easily check all the available bus operators, ticket fares, timings, and amenities offered for your journey to Valencia from Barcelona at redBus.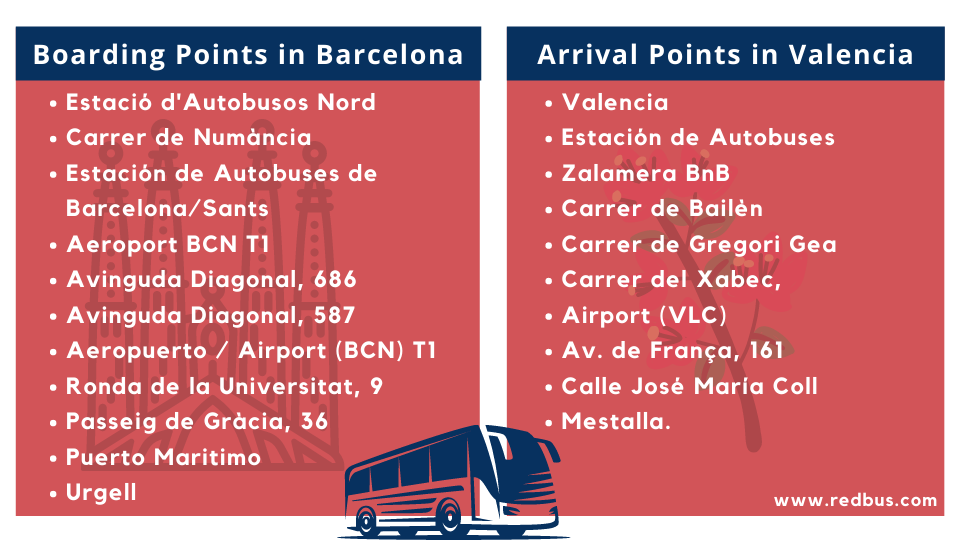 Boarding Points in Barcelona

When leaving from Barcelona, you have numerous bus station options to begin your journey from including the following:

Estació d'Autobusos Nord
Carrer de Numància
Estación de Autobuses de Barcelona/Sants
Aeroport BCN T1
Avinguda Diagonal, 686
Avinguda Diagonal, 587
Aeropuerto / Airport (BCN) T1
Ronda de la Universitat, 9
Passeig de Gràcia, 36
Puerto Maritimo
Urgell

Drop-off points in Valencia

In Valencia, the buses will drop you off in bus stations such as:
Valencia
Estación de Autobuses
Zalamera BnB
Carrer de Bailèn
Carrer de Gregori Gea
Carrer del Xabec,
Airport (VLC)
Av. de França, 161
Calle José María Coll
Mestalla.

Barcelona to Valencia Bus Price

The ticket prices for buses are usually influenced by a range of factors such as distance, holiday seasons, the day and time that you have chosen to travel, and more. Barcelona to Valencia tickets are on average priced at €24($30) for a one-way trip, while the cheapest ticket for the bus running in this route starts at € 19.90.

The best way to save money on Barcelona's bus tickets to Valencia is to book your tickets in advance. Book your Barcelona to Valencia bus tickets on redBus to get the best deals and book them as early as possible to save extra!

Barcelona to Valencia Bus Timings

When it comes to distance, Barcelona Valencia distance is around 350 km and the average time taken to travel by bus between Barcelona to Valencia is about 4 hours. The Barcelona to Valencia bus time is approximately 3h 15m if you opt for the fastest bus. The first bus leaves from Barcelona at 01:00 while the latest departure is at 22:00. However, the duration of the trip or the timings of the bus may change due to weather, traffic conditions, dates, and other factors.