Aerobus Barcelona Bus Tickets Online
About Aerobus Barcelona


Aerobus Barcelona is known for providing bus services in Barcelona, Spain. They connect the Barcelona airport to the Barcelona city centre every 5 minutes. They also connect different terminals of the Barcelona Airport. They are known for their flexible, frequent, and fast bus services. Their buses are designed according to the modern safety systems and also assist passengers with reduced mobility. They provide robust bus services at an affordable price from/to Barcelona Airport.
They also have attained the Quality UNE 13816 certification. This European certification is awarded to operators who comply with various security, punctuality, comfort, etc., rules. Aerobus Barcelona also complies with Euro 5 I EEV, which determines the respect for the environment while providing bus services.
Address and Contact No. of Aerobus Barcelona

The address of Aerobus Barcelona is:
Polígono Industrial Gran Vía Sur
Av. Joan Carles I, 50
08908 L'Hospitalet de Llobregat
Spain

You can contact Aerobus Barcelona at +34 902 100 104 or +34 933 841 758 during working hours. You can also reach out at info@sgmt.cat for any queries or confusion. Customer support via mail by Aerobus Barcelona is provided from 8 AM to 9 PM.


One can also reach out to the redBus customer support executive for any trouble they face while booking Aerobus bus tickets online via redBus website.


Amenities Offered by Aerobus Barcelona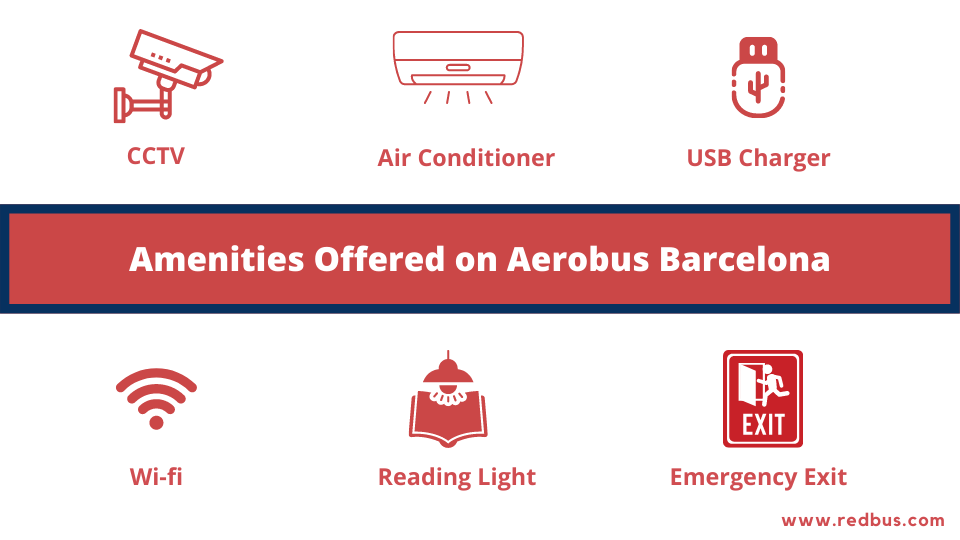 Aerobus Barcelona buses are equipped with modern as well as luxurious amenities to provide a comfortable travel experience to passengers. They also provide various facilities to physically impaired passengers. They offer bus services to Barcelona Airport from the city centre and vice-versa in approximately 35 minutes. You can also look at the amenities offered by any of the Aerobus Barcelona buses in advance on the redBus website. They also provide luggage security on buses with a strict surveillance system. The wide range of amenities offered by Aerobus Barcelona buses includes:

Wi-Fi
CCTV
USB Chargers
Reading Light
Air Conditioners
Emergency Exit System


Popular Routes Covered by Aerobus Barcelona Buses
Aerobus Barcelona provides bus services throughout the city. Their buses are preferred because of their robust and frequent services. They provide bus services on two lines originating from both the terminals of Barcelona Airport. They start providing bus services from/to Barcelona Airport from 5 AM until midnight. You will find frequent Aerobus Barcelona buses throughout the day at frequent intervals (5-10 minutes). The top routes covered by Aerobus Barcelona buses are as follows:


Pl. Catalunya (Barcelona) to Terminal T1 (Airport BCN)
Terminal T1 (Airport BCN) – Pl. Catalunya (Barcelona)
Terminal T2 to Barcelona City Center


Popular Cities Covered by Aerobus Barcelona
Barcelona is one of the most toured cities in Spain. People coming from various other countries prefer to travel to Barcelona by airways. Aerobus Barcelona provides the most robust bus services from Barcelona Airport. The city covered by Aerobus Barcelona buses is only Barcelona. However, there are various stop points where you can drop-off. You can travel from Barcelona Airport to your hotel/destination at economical rates via Aerobus Barcelona buses. Some of the major stop points of Aerobus Barcelona buses are as follows:
Airport T1
Airport T2
Placa Espana
Placa de Catalunya (City Center)
Urgell


Booking Aerobus Barcelona Bus Ticket Online on redBus
You can visit www.redbus.com to book Aerobus Barcelona bus tickets online. The booking process of Aerobus Barcelona on redBus is as follows:

Enter your boarding and destination city in the 'Form' & 'To' sections respectively. Click on 'Search Buses' after selecting your date of journey.
Select your preferred Aerobus Barcelona bus from the list of available buses. You can also filter Aerobus Barcelona buses by applying search filters on redBus. The seat layout of the selected bus will be displayed to you.
Select your preferred seat and boarding and drop-off points. Click on 'Proceed to Book'.
Enter the passenger and contact details on the next page and click 'Proceed to Pay'. You should provide accurate contact information to receive your e-ticket.
You will see multiple payment options on redBus. You can also apply a coupon code (if available) to get a discount on redBus. You will receive your Aerobus bus e-ticket/M-ticket via mail/SMS once the booking is confirmed.