Alibus Bus Tickets Online
About Alibus
A.N.M. S.p.a (Azienda Napoletana Mobilita) manages Alibus, which provides connections in Naples, especially for the Naples Capodichino Airport. It connects passengers from various points in Italy to the Naples Capodichino Airport. Alibus serves only a few bus stops in the city but is highly preferred because of its on-time and affordable bus services. The parent company of Alibus has years of experience in the bus transportation system and is associated with other bus companies in Italy.
Alibus is involved in connecting the Naples Capodichino Airport with various transit points in the city like railway stations. You can book Alibus bus tickets easily via the redBus website.


Address and contact no. of Alibus
The local office of Alibus is located in Naples and Catania. It is also involved in providing airport transfers to the Catania International Airport. The address of AMT Alibus public relation office in Catania is as follows:

Via Plebiscito 747,
95124, Catania, Italy.
You can contact Alibus by filling out the contact form on their official website. You can also contact the parent company of Alibus for any complaints/queries regarding their services. Alibus also provides customer support service to its passengers. If you face any issues while booking Alibus online tickets or have questions about it, you can contact the redBus 24x7 customer care.
Amenities offered by Alibus
Alibus offers various amenities onboard on its buses for passengers. You can check the amenities offered on any Alibus bus via the redBus website. You can compare the amenities offered by buses in Italy on redBus and choose the most suitable one.
The amenities offered by Alibus buses onboard are as follows:

• Charging ports
• Reading light
• Emergency exit
• Adjustable seats
• Luggage compartment
• Ample legroom
• Air conditioning


Popular routes covered by Alibus buses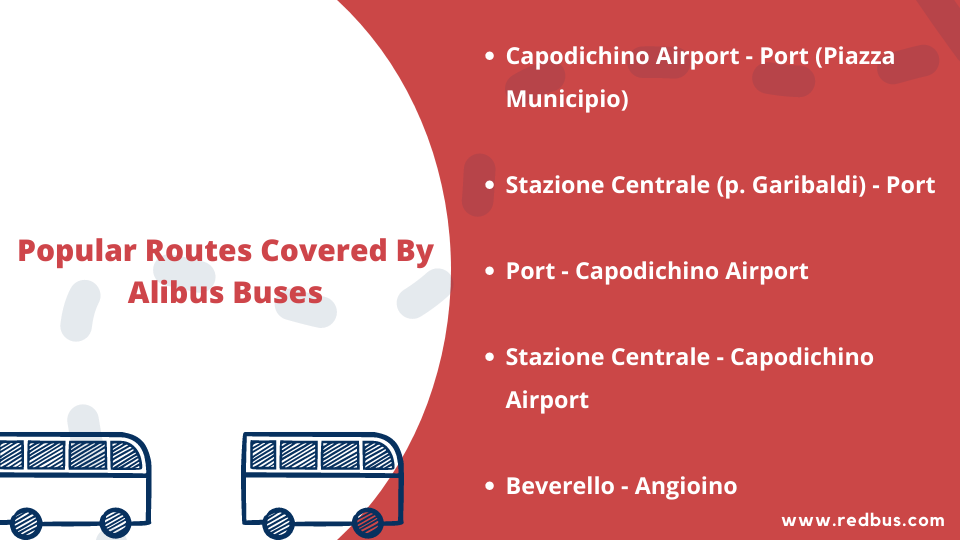 The bus line served by Alibus starts at Beverello (Naples) and ends at the Naples Airport.
The routes covered by Alibus during their airport transfers are as follows:
• Capodichino Airport to Port (Piazza Municipio)
• Stazione Centrale (p. Garibaldi) to Port
• Port to Capodichino Airport
• Stazione Centrale to Capodichino Airport
• Beverello to Angioino
You can view all the Alibus route details on the redBus website.


Popular cities covered by Alibus

Alibus buses are only available for Naples city.
Booking Alibus bus tickets online on redBus
For booking an Alibus ticket online with redBus, you can go to the official website. The process to book an Alibus ticket with redBus is as follows:
• Enter your Alibus source city in the 'From' section and your bus destination in the 'To' section. Press the 'Search Buses' button after selecting your travel date.
• Choose your AMT Alibus bus from the list of buses, and the seat layout of the selected bus will be displayed. You can also filter Alibus buses from the list of available buses using the 'Bus Operator' filter.
• Choose your seat and then hit the 'Proceed to Book' button.
• Enter the passenger details. Hit the 'Proceed to Pay' button after entering your contact details (phone number and email-ID).
• Check for any coupon code (if available) and complete the online payment to confirm your Alibus ticket. redBus will send you your Alibus e-ticket/M-ticket by email/SMS after successful confirmation of payment.