Alsa Bus Tickets Online
About Alsa

Alsa is a leading coach service in Spain. It is the Spanish subsidiary of UK's popular bus company called National Express. National Express offers its services in a large number of countries in Europe including Andorra, Austria, Belgium, the Czech Republic, France, Germany, Hungary, Italy, Malta, Cyprus, Netherlands, Poland, Portugal, Romania, Slovakia, Switzerland and Ukraine. Alsa started its operations in 1923 and served the Luarca and Oviedo regions.

In the later years, especially in the 1980s and 2000s, the bus company expanded its operations all across Europe. Ouibus also joined National Express and ALSA in 2018. With around one hundred years of experience, Alsa has specialization in good vehicle maintenance and bus station management. Currently, Alsa has a fleet of 4,446 buses taking over 392 million passengers from one place to another every year.
Amenities Offered by Alsa

Alsa offers a variety of facilities to its passengers to make their journey as comfortable as possible. All their buses are 100% accessible to passengers with limited mobility. Some of the amenities provided on these buses are:

Wi-Fi
European 220V Electrical Sockets Toilets
Bilingual drivers speaking French and English
Customer Support
Emergency Exit
Bus tracking
Music
Comfortable seats
Clean buses
Popular Routes Covered by Alsa Buses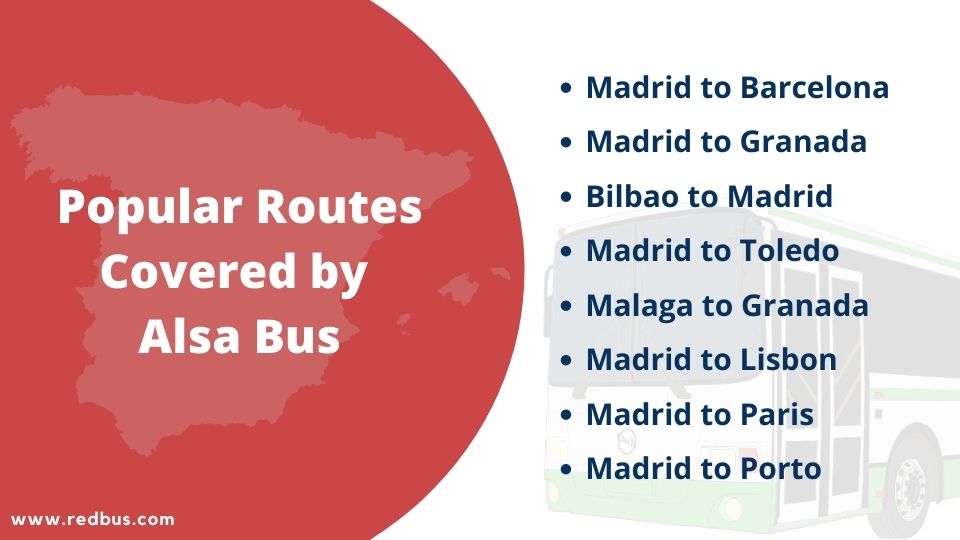 Alsa buses run on various routes of Spain. All the routes are carefully planned and include service stops. Some of the popular routes of Alsa are:

Madrid to Barcelona
Madrid to Granada
Bilbao to Madrid
Madrid to Toledo
Malaga to Granada
Madrid to Lisbon
Madrid to Paris
Madrid to Porto

Apart from these routes, the buses also go to various destinations in Paris, Bilbao, Bordeaux, Barcelona, and other places in Spain.
Types of Buses Offered by Alsa

Alsa has a large fleet of buses. All their buses meet the Euro 5 emission standards, and every one of them is a 48 passenger seater, providing more room per customer. The buses are designed with a low-price model for affordability.

Alsa offers single and group travel tickets. The tickets for children under 2 years of age cost half of the adults. The company provides consistent deals and prices to its passengers. Its fares remain unchanged even when the departure dates approach or the bus gets filled up. Alsa is a reliable bus service that aims at providing only quality travel journeys to its passengers.


Popular Cities Covered by Alsa

Alsa serves several locations. The travel experiences delivered by the operator are unmatched by any of its competitor services. Alsa takes care of every need of its passengers. From ticketing to seating, boarding, and departure, Alsa is a perfect travel buddy, making the journey hassle-free and enjoyable. It covers many popular cities in Spain, which include:
Barcelona
Bilbao
Madrid
Grenade
Oviedo
Lisbon
Bordeaux


Booking Alsa Bus Tickets Online with redBus

The booking process for Alsa is quite straightforward. Customers can book their Alsa bus online with redBus using the below-listed steps.
Visit the redBus official website.
Enter details in the 'From' and 'To' column for your boarding and dropping points.
Set the journey onward and return date. Return date is optional. You can leave it blank if you wish to travel one-way only.
Click on 'Search Buses'.
You will see a list of all the available buses with their details.
If you are on the wesbite, select the 'Sort & Filter' tab. Click on the 'Bus Operator' tab.
Choose Alsa and click 'Apply'.
If you are on the webpage, select the 'Operator' tab from the right-hand side. Choose 'Ouibus' and click 'Apply'.
Select the bus of your choice.
Choose the seat, boarding, and drop-off point.
Click on 'Proceed to Book'.
Fill in the passengers' details form.
Click on 'Proceed to Pay'.

There are various payment methods for booking. One can choose from debit cards, credit cards, net banking, or wallets as per their convenience for making the payment. Once the payment is made, passengers will receive a confirmation email or SMS on their phone.