Appennino Shuttle Bus Tickets Online
About Appennino Shuttle
Appennino Shuttle is the bus company that provides daily services between Bologna Airport and other major cities in Florence, Italy. Their services are available every day, throughout the year. The company also offers rental buses in case there is a larger group. It ensures that they all get a seat on the bus and can travel comfortably to the airport.


The Appennino Shuttle bus is easily recognized by the white body and the logo visible on both sides of the bus. The buses are available from 3.50 am till 10 pm towards the airport. They are available at an interval of 10-20 minutes. You can book Appennino Shuttle buses online on the redBus website.


Address and Contact No. of Appennino Shuttle
The company has its offices at Bologna Airport as well as in Florence. The office services and customer care is available 24x7.
Address: Piazzale Montelungo/Viale Filippo Strozzi,
50129,Florence ,ITALY
Ph: +39 055 5001302 for general queries
For booking and services
+39 328 4669339
+39 348 9999651
If you have any queries/complaints related to Appennino Shuttle buses, you can contact the redBus customer care service. The customer support of redBus is available 24x7.


Amenities Offered by Appennino Shuttle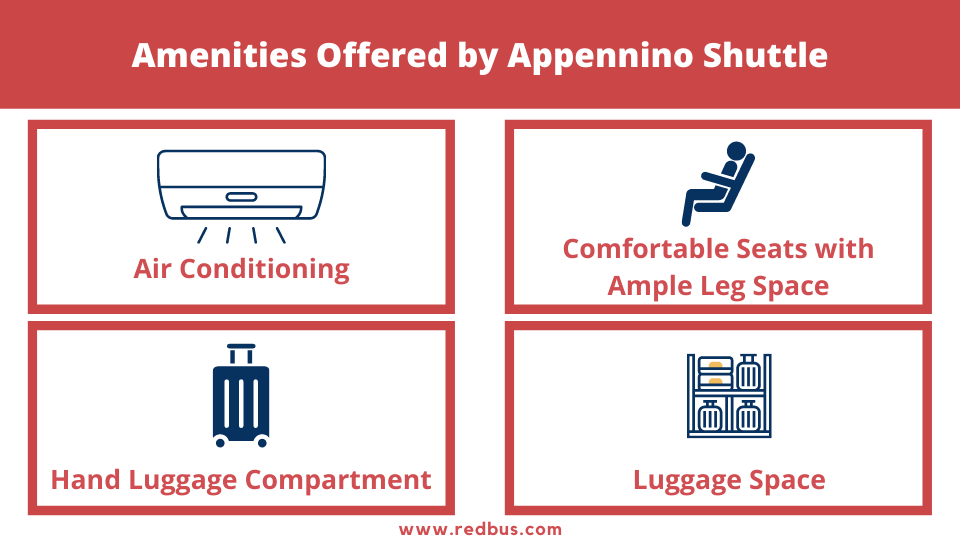 Appennino Shuttle buses offer multiple amenities to their passengers to ensure a comfortable journey. These amenities include -
Air-conditioning
Luggage space
Hand luggage compartment
Ample leg space
Wifi+ Entertainment

You can find more details about the amenities provided on Appennino Shuttle online on redBus.


Popular Routes Covered by Appennino Shuttle Buses
There are only two destinations from the Bologna Airport for the Appennino Shuttle bus. These are Florence and Calenzano. The routes are -
Bologna Airport to Florence
Florence to Bologna Airport
Calenzano to Bologna Airport
Bologna Airport to Calenzano


Popular Cities Covered by Appennino Shuttle
Appennino Shuttle only 3 cities in total; these are:
Bologna
Florence
Calenzano

You can find more details about Appennino Shuttle bus routes and schedule online on the redBus website.
Booking Appennino Shuttle Bus Tickets Online on redBus
It takes only a few clicks to book Appennino Shuttle bus tickets online on the redBus website. Follow the steps below to book your bus tickets online.

Search for the bus on your preferred route and travel date.
You will get a list of available buses. From the search results, filter Appennino Shuttle bus using the 'Bus Operator' filter.
Choose a bus according to your time and select the seats.
Enter details and proceed to checkout.
Here, you can apply coupon codes (if available) to enjoy offers on your bus booking.
Make the payment.
Once you make the payment, you will receive the confirmation via email and SMS.