Arriva Bus & Coach Bus Tickets Online
About Arriva


Established in 1938 as T. Cowie and rebranded in the late 1990s, Arriva is a popular multinational public transport service that provides its customers with the best travel experience. Its headquarters is located in Sunderland. Arriva not only provides customers with buses but also runs train, waterbus, coach and tram services across 14 different countries. These countries include Croatia, Czech Republic, Hungary, Italy, Netherlands, Portugal, Slovakia, Spain, United Kingdom, Serbia, Malta, Slovenia, Poland, and Germany. The dense network created by Arriva buses allows for convenient bus booking for passengers across most of Europe.


Arriva has extremely helpful and approachable staff members who, along with its extremely comfortable buses, put the operator among the top bus service providers in Europe. The buses are well equipped with all the necessary amenities to make travel for passengers more convenient.


Using reliable online bus booking platforms like redBus, you can book any Arriva bus in a hassle-free manner. redBus enhances the customer's ticket booking experience while providing a wide range of benefits. To book a ticket using redBus, customers simply need to log onto the redBus web portal.
Address and Contact Number of Arriva

Arriva has extremely friendly, approachable, and well-informed customer care staff allowing customers to contact them without any hesitation. In case of any queries regarding the bus time tables or bus fares and complaints, customers can contact the customer care staff. You can use the information mentioned below to contact Arriva -
Customer care contact number: 0344 800 44 11
(Available from 8 am to 5 pm from Monday to Friday)

Address outside of London: Arriva Customer Services
487 Dunstable Road
FREEPOST ANG7624
Luton
Bedfordshire
LU4 8DS

Address (London only): Arriva Customer Services
FREEPOST ND6721
London
N22 4BR
Amenities Offered by Arriva


For Arriva, it's passenger's comfort and safety hold the highest priority. The buses are equipped with a wide range of amenities to meet all of their passenger's needs and expectations. These amenities include the following:


WiFi
Entertainment facilities
Lavatory facilities
Power outlets or sockets
Air Conditioners
Comfortable and standardized seating


Arriva pays very close attention to the needs of its disabled passengers and thus has specific amenities for them. These include:

Downloadable assistance cards
Provision of mobility scooters

On redBus, users can easily check Arriva bus timings and book bus tickets online.
Popular Routes Covered by Arriva Buses


Arriva buses run in 14 different countries, creating a dense route network connecting major cities and towns. This network allows customers to book buses in a hassle-free manner, irrespective of their source destination. Among popular bus routes are:

Split to Zagreb
Zagreb to Karlovac
Pula to Zagreb


Arriva Buses Wales, a subsidiary of Arriva, provides bus services in the areas of north Wales as well as Chester. Arriva bus time can be checked easily on the redBus website.
Types of Buses Offered by Arriva


Arriva offers its customers a wide range of options to choose from when it comes to bus booking. The bus prices vary depending on the bus type selected. Information regarding available bus types is easy to source out using redBus.
Popular Cities Covered by Arriva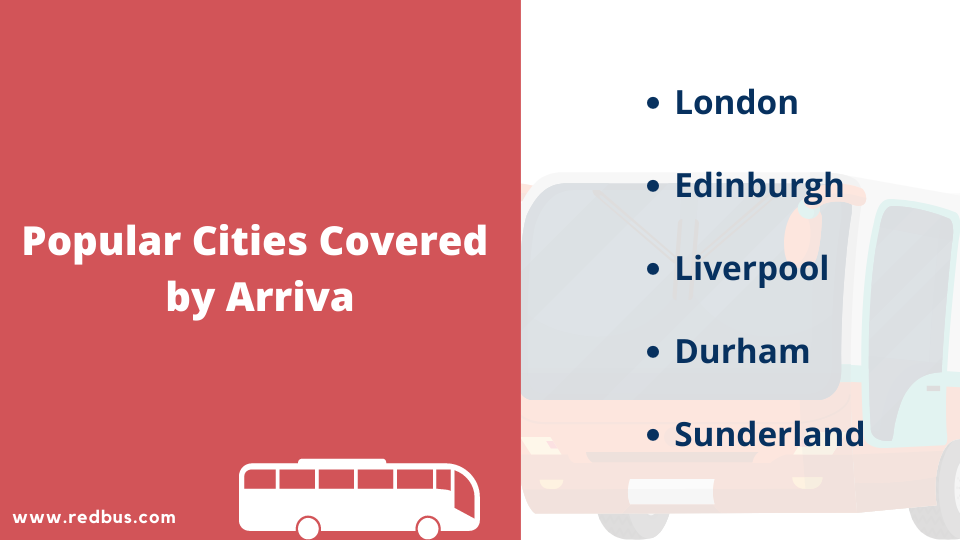 Travelling by bus from one place to another is preferred by many people because it is convenient. Arriva connects various important cities across a large number of European countries through its buses. Some popular cities are listed below:

London
Edinburgh
Liverpool
Durham
Sunderland

You can choose your Arriva bus source and drop destination while booking tickets online on redBus.
Booking Arriva Bus Tickets Online on redBus


redBus has made the Arriva bus ticket booking process very easy. It takes only a few minutes for customers to avail tickets. Listed below are the steps to booking your Arriva bus on redBus -


In the spaces labelled as 'From' and 'To' fill in your pick up and drop destinations, respectively
Enter your date of travel and click on 'Search Buses'.
On clicking the 'Search Buses' button, redBus will present all available bus options for the information provided on the screen before you.
Select Arriva as your bus operator in the 'Bus Operator' filter option.
Select the bus type that suits your travel requirements.
Fill in your details and proceed to payment.
On redBus, you can pay online using various payment methods. Once you make the payment, you will receive a confirmation email and sms on the email ID and mobile number you provided.


In case of any queries, while booking a bus with redBus, customers can contact the redBus customer care, and the friendly customer care staff will help them. You can find all information regarding Arriva bus timings and bus schedules online on redBus.