Autotrans by Arriva Bus Tickets Online
About Autotrans
Autotrans is a part of the Arriva group that is the largest transport company in Croatia. Besides Autotrans, the Arriva group also consists of APP (Auto Prometno Poduzece Pozega) and Panturist. The Arriva group connects various cities of Croatia along with providing multinational links with Germany, Italy, Slovenia, Bosnia & Herzegovina, and Serbia. The Autotrans company is dedicated to providing transportation services in coastal and west Croatia. Besides providing robust bus services to people, Autotrans also manages 23 bus stations and several ticket counters across the country.


Autotrans connects various cities of Croatia along with locations in neighbouring countries. It also offers buses to various Croatian islands. Airport transfers to/from Dubrovnik airports are also provided by Autotrans. Autotrans manages its transportation system via 5 branch offices, 7 vehicle maintenance centres, and 5 service shops spread across Croatia. Autotrans is also partnering with redBus to provide e-ticketing services to people in Europe. Autotrans has been providing quality bus services since 1947. Read on to know more about Autotrans bus services.


Address and contact no. of Autotrans

The head office address of Autotrans is:
Skurinjska Cesta 2a,
Rijeka, Croatia, 51000
The registered office address of Autotrans is:
Setaliste 20, Travnja 18,
Cres, Croatia, 51557

Complaints can be posted to:
Autotrans d.d., Sluzba Podrske Prometa I Prodaje,
p.p. 288, Rijeka, 51000.


Arriva is super active on social media platforms and one can connect to them to know more about their services. One can also contact the redBus customer support executive for any issue while booking Autotrans bus online tickets.


Amenities offered by Autotrans
Autotrans offers all the basic amenities to make a bus journey convenient. You can also see the list of amenities offered by any particular Autotrans bus while booking tickets with redBus. Various amenities offered by Autotrans onboard are as follows:
• Air conditioners
• Power outlets
• WIFI
The amenities can differ on different bus types offered by Autotrans and also depends on ticket type. It is advised to check the amenities offered redBus website.


Popular routes covered by Autotrans buses

Autotrans buses cover various domestic routes as well as some international routes. They are also known for providing bus services to various coastal areas of Croatia and connecting them to other parts of Croatia and neighbouring countries. Some of the popular bus routes covered by Autotrans are as follows:

• Rijeka to Zagreb
• Zadar to Split
• Rijeka to Zadar
• Zagreb to Osijek
• Zagreb to Pazin
• Split to Dubrovnik
• Zagreb to Pula
• Zagreb to Crikvenica


Types of buses offered by Autotrans
Autotrans by Arriva offers modern buses that are equipped with the latest safety systems. Their buses have comfortable seats with ample legroom and luggage storage facility. All their buses are regularly monitored and inspected. Autotrans has maintenance centres spread across Croatia that helps in easy repairing and maintenance of buses. The buses offered by Autotrans are the same but various types of tickets are offered by Autotrans.
You can choose between an adult or child ticket on Autotrans buses. You can look at the vehicle images before booking bus tickets via redBus website. redBus also provides exclusive offers and attractive deals on bus ticket booking from time to time. You can also apply a coupon code (if available) while booking an Autotrans bus ticket with redBus.
Popular cities covered by Autotrans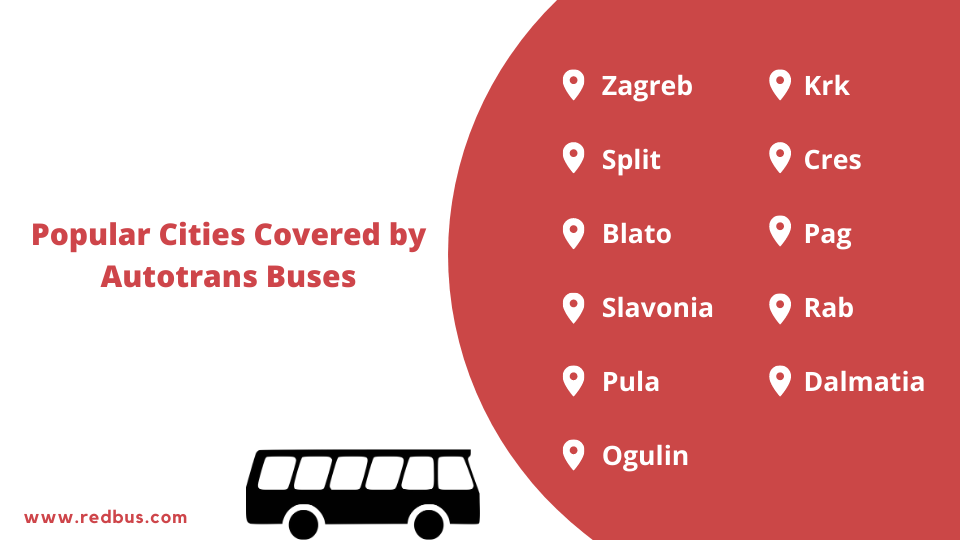 Besides providing transportation services in Europe, Autotrans is also involved in providing tourism services to passengers. Autotrans has a huge transportation network in Croatia and provided better connectivity. Besides daily commuters, tourists/foreigners also prefer Autotrans buses for their frequent bus timings and better connectivity. Some of the prominent cities covered by Autotrans buses are as follows:

• Zagreb
• Split
• Blato
• Slavonia
• Pula
• Ogulin
• Krk
• Cres
• Pag
• Rab
• Dalmatia


Booking Autotrans bus tickets online on redBus
You can visit to book bus tickets online. The easy-to-use interface of the redBus online portal allows users to book bus tickets easily. The steps to book Autotrans bus tickets with redBus are as follows:
• Two sections that are 'From' and 'To' would be visible on the interface. Enter your source and destination details in both these sections and press the 'Search Buses' button.
• A list of available buses will be shown to you and you can select an Autotrans bus from the list. You can also filter Autotrans buses from the list by applying search filters on redBus.
• Once you have selected a bus, select your preferred seat from the seat layout of that particular bus. Enter your boarding/dropping points on the next page and click on 'Proceed to Book'. You can also filter buses on redBus based on various boarding/drop-off points.
• Enter the passenger details including name, phone number, email ID, number of passengers, age, etc., and click on 'Proceed to Pay'.
• You can pay for an Autotrans bus ticket on redBus via credit/debit card, internet banking, or e-wallet. The payment process of redBus is extremely secured via the SSL (Secure Sockets Layer) encryption standard.
• You will receive your Auto trans-e-ticket/M-ticket from redBus shortly via mail/SMS.