Avanza Bus Tickets Online
About Avanza
Avanza buses are known for the comfort they provide to their passengers. Avanza is a popular name in the tourism industry as an Avanza bus is efficient and extremely comfortable. Passengers prefer travelling on an Avanza bus as the company Avanza promotes itself as an eco-friendly bus. Avanza is a part of Mobility ADO which is known to be a pioneer in the transport industry and has a vast fleet of buses, making it convenient for passengers who want to travel from one city to another. Avanza came into existence in 2002 when three major transport companies Tuzsa, Vitrasa and Auto Res came together to form a single company. It has since gained popularity being the first private urban bus operator in Spain.

Amenities Offered by Avanza
An Avanza bus provides multiple amenities to its passengers. In addition to serving food, some of the other amenities which are provided in an Avanza bus are as follows:

Individual multimedia screen
Recharge on board
USB Port
High quality Wi-Fi


In the light of the Coronavirus outbreak, these buses have become more particular about what amenities they provide inside the buses. The buses are thoroughly sanitised after every trip and all Avanza buses are well equipped with sanitisers and other safety equipment to contain the spread of the virus. These buses are incredibly comfortable and hospitable. It is advised to book Avanza bus tickets in advance from redBus.com.
Popular Routes Covered by Avanza Buses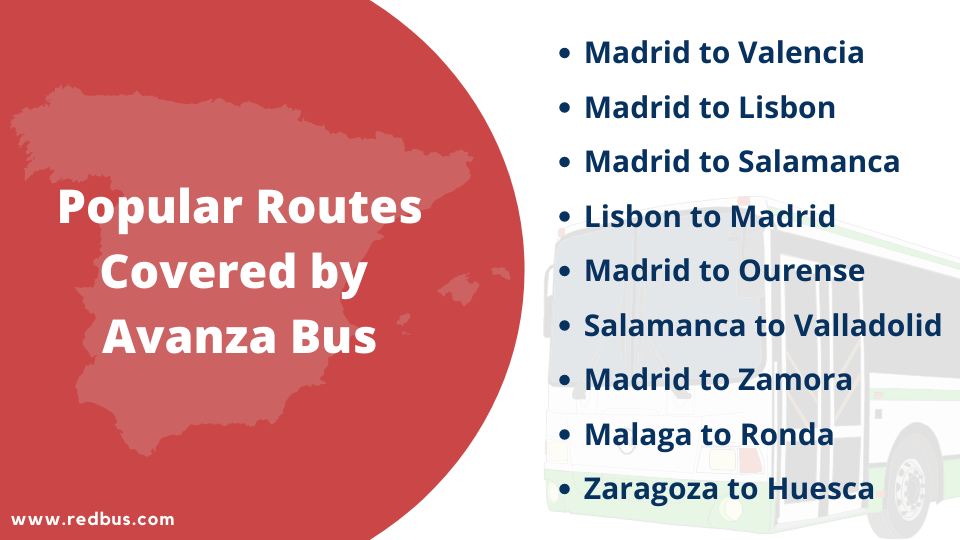 Avanza buses cover about 5,500 routes. Their efficiency and the number of routes travelled by them make them very popular in the European region. Some of the popular routes are:

Madrid to Valencia
Madrid to Lisbon
Madrid to Salamanca
Lisbon to Madrid
Madrid to Ourense
Salamanca to Valladolid
Madrid to Zamora
Malaga to Ronda
Zaragoza to Huesca


There are other popular routes too. You can check out the redBus.com page to know more about these routes and then plan your travel accordingly. The fares also change depending on the bus you choose to travel on and where you want to go.
Types of Buses Offered by Avanza
Avanza has a fleet of comfortable buses. You can choose from the multiple options which the operator has to offer. You can board these buses from the popular bus stations. The types of Avanza buses provided to the passengers are:

Executive buses
Air-conditioned Sleeper buses
Air-conditioned seater buses

You can then decide the type of bus you want to travel on for your trip.
Popular Cities Covered by Avanza
Avanza is known for servicing different cities and routes. They are a one-stop destination for all your travel needs. You can also rent an Avanza bus if you want to go on a personal trip with your friends or family. Some of the popular cities covered by an Avanza bus are:

Segovia
Avila
Badajoz
Barbastro
Lisbon
Barcelona
Madrid
Cullera
Estepona
Gandia


This is not an exhaustive list as Avanza buses cover about hundreds of cities. For a complete and comprehensive list of cities, you can check out the website of redBus.
Booking Avanza Bus Tickets Online on redBus
Booking tickets using the redBus website is quite simple. You need to perform a few simple steps to book a ticket or multiple tickets. Creating an account on redBus is recommended as you can use the different exclusive offers and discounts that are only available for the members. You can book your Avanza bus tickets using the redBus by following the simple steps listed below:
Visit the redBus website and select your source and the destination cities from the drop-down.
Once you select the cities, you can click on search to view the available bus timings and the bus types. You can apply filters based on the bus type, seat type and several other amenities.
You can then select a bus depending upon your requirements. The redBus website will also give you an option where you can choose your seats on an Avanza bus.
Once you are done virtually selecting your seats on an Avanza bus, you can move forward with paying.