Comati PSG Bus Tickets Online
About Comati PSG
Comati PSG is a prominent bus transport company based in Romania. It has a huge transportation network and boasts a multinational presence. Comati PSG provides bus services in various European countries, such as Sweden, Denmark, Norway, Germany, and the Czech Republic. They offer on-time and state-of-art buses that ensure passenger safety.


Comati PSG is currently headquartered in Timisoara (Romania) and serves various domestic and international bus routes. With around 20 years of experience in the transportation sector, the operator has become the first choice of many passengers in Europe.


Comati PSG expands the number of routes covered by its buses every year to facilitate their passengers. Besides offering the best bus services, these buses are also affordable. You can easily book Comati PSG bus online tickets via the redBus website.
Address and contact no. of Comati PSG
The head office address of Comati PSG is as follows:
Luliu Maniu Boulevard, Nr. 18,
300188, Timisoara, Romania.

You can contact Comati PSG at +40 256 305 688 (telephone number) or +40 356 808 557 (RDS). You can also reach out to them on their fax number, i.e., +40 256 293 974. The operator's customer support is open from 8 AM to 8 PM (Monday to Friday). On Saturdays, customer support is open from 10 AM to 2 PM.
You can also contact the redBus 24x7 customer care service for any queries or issues related to Comati PSG online bus tickets.
Amenities offered by Comati PSG
Comati PSG buses are equipped with all the basic and some luxury amenities to make the bus journey memorable and comfortable. One can view the amenities offered by any particular Comati PSG bus on the redBus website before booking bus tickets.
The amenities offered by Comati PSG buses are as follows:

• Safe and comfortable seats
• WiFi
• Coffee Machine
• 220V Socket
• TV
• Baggage 50kg
• USB


Popular routes covered by Comati PSG buses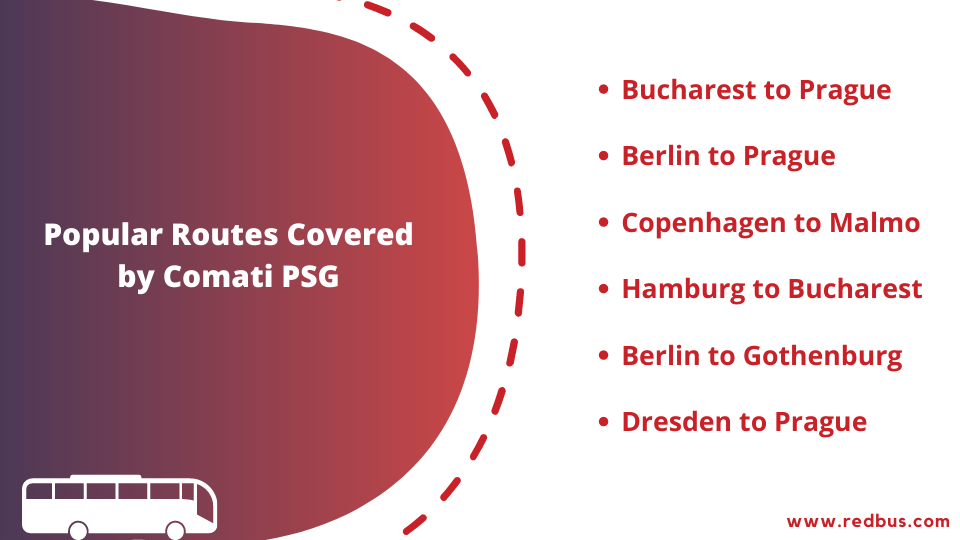 Comati PSG buses cover more than 270 routes across various countries in Europe every day. You can view the Comati transport schedule easily on the redBus website.
Some of the top routes covered by Comati PSG buses are as follows:

• Bucharest to Prague
• Berlin to Prague
• Copenhagen to Malmo
• Hamburg to Bucharest
• Berlin to Gothenburg
• Dresden to Prague


Popular cities covered by Comati PSG
Comati PSG covers many prominent tourist cities in Europe via their on-time buses. Every day, their buses travel to more than 80 cities across various countries of Europe. You can filter Comati Autocar for any particular city on redBus.
Some of the top cities in Europe covered by Comati PSG buses are as follows:

• Prague
• Copenhagen
• Bucharest
• Hamburg
• Jonkoping
• Linkoping
• Vejle
• Stockholm
• Berlin


Booking Comati PSG bus tickets online on redBus
The steps involved in booking Comati transport tickets with redBus are as follows:
• On the homepage, enter your Comati bus source and destination in the 'From' and 'To' headings. Press the 'Search Buses' icon after selecting your date of journey.
• Select a Comati PSG bus from the list of available buses on your entered route. You can compare the Comati PSG pret bilet (ticket price) of various buses and choose accordingly.
• Select a seat in the preferred bus and enter your exact boarding/drop-off point on the next page.
• Click on 'Proceed to Book' and enter passenger information on the next page along with the correct contact information.
• Click on 'Proceed to Pay' and complete the online payment process on redBus. Make sure to check for any coupon code (if available) to enjoy offers on ticket price on redBus.
• redBus will send you the Comati PSG e-ticket/M-ticket via mail/SMS after successful confirmation of payment.