Euroclub LLC Bus Tickets Online
Euroclub


Euroclub is an international bus operator that provides bus services in various countries like Germany, Poland, Ukraine, Austria, Hungary, etc. They are associated with other companies in the transportation sector in multiple countries and have a huge network. The main motive of their activities is to enhance the customer satisfaction level. They are preferred both by the tourists and daily commuters in Europe because of their on-time and affordable bus services. Euroclub buses have many experienced drivers who offer safe bus services to passengers.


Euroclub buses cover more than 300 routes every day and over 100 cities. The well-trained staff members provide a hospitable environment during the bus journey. Headquartered in Cologne (Germany), Euroclub has an expanded transportation network across various countries in Europe.


You can easily book Euroclub online tickets via the redBus website.
Address and contact no. of Euroclub


The head office address of Euroclub is as follows:
Aachener Str. 1149, 50858,
Cologne, Germany.

The customer support numbers of Euroclub are +49(0) 15734341476, +49(0) 22349291441, and +49(0) 22349291445. You can get to know about their latest offers and news by following their social media accounts. Passengers can also contact the redBus customer support executive (available 24x7) if they face any problem while booking Euroclub bus tickets online.
Amenities offered by Euroclub


Euroclub buses are equipped with all the basic amenities to facilitate your journey. You can view the amenities offered by any particular Euroclub bus on the redBus website. You can compare the cost and amenities of different buses on redBus and choose one that best suits your requirements. The amenities offered by Euroclub buses onboard are as follows:


• Air conditioning
• Toilet
• Ample legroom
• Power outlets
• Drinks
• Luggage compartment
• Adjustable seats


Popular routes covered by Euroclub buses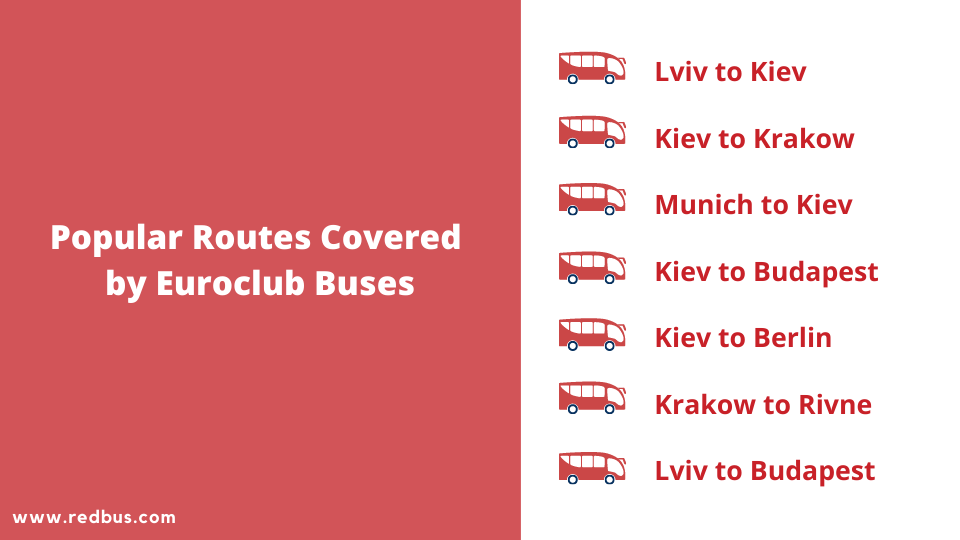 Euroclub buses cover various routes across different countries in Europe. You can access the route information of all Euroclub buses on the redBus website without any cost.


Some of the top routes covered by Euroclub buses are as follows:

• Lviv to Kiev
• Kiev to Krakow
• Munich to Kiev
• Kiev to Budapest
• Kiev to Berlin
• Krakow to Rivne
• Lviv to Budapest


Popular cities covered by Euroclub


Euroclub buses cover various cities across Europe via their vast transportation network.


You can quickly check the real-time availability of Euroclub buses to any particular city via the redBus website. The top cities covered by Euroclub buses across Europe are as follows:

• Kiev
• Lviv
• Rivne
• Berlin
• Budapest
• Nuremberg
• Dortmund
• Dresden
• Hanover
• Warsaw


Booking Euroclub bus tickets online on redBus


The steps involved in booking Euroclub bus tickets online are as follows:


• On the homepage, you will see the 'From' and 'To' sections. Enter your Euroclub source and destination city in them and enter your journey date.
• Press the 'Search Buses' button. All the available buses on your entered route will be shown to you. Choose a Euroclub bus from the list, and the seat layout of that bus will be displayed. You can also filter Euroclub buses from buses of other operators by applying search filters.
• Choose a preferred seat and then select your boarding and drop-off points.
• Click on 'Proceed to Book' and enter the passenger information on the next page. Make sure to provide the correct contact information while booking bus tickets, as it will be used to provide you with the ride details/tickets.
• Check for any coupon codes or discounts and complete the online payment process. Your Euroclub e-ticket/M-ticket will be sent via SMS/mail.