Firstcoach Bus Ticket Booking
About First Coach
Since its establishment in the year 2004, First Coach started with just 6 to 8 trips in a single day. The company mainly dealt with luxury bus services. But presently, First Coach has been encapsulating a huge number of cities in the country through a variety of buses in its fleet.

First Coach is famously known for its Timely, Safe, and Comfortable bus journeys all across the country, which has made it earn an esteemed reputation in the Travel Industry. Tourists across the world travel through First Coach buses and get highly satisfied by the quality of services this company provides. The First Coach has been creating a remarkable brand image since its inception and has a great passenger loyalty in Singapore and Malaysia.
How to book a First Coach Bus on redBus?

redBus brings you all the minute details of each bus operator and their specific buses in a location. It has become hassle-free to make an online booking through redBus. Follow the steps mentioned below to make the booking with redBus:
Start the redBus app and sign in to your redBus account.

Add details like the location you are traveling from and the one you aspire to travel to.

Write down the date of the prospective travel.

After searching, you will see numerous options by various bus operators matching your preferred route and date.

Check all the details of operators and finalize a single bus as per your preference.

You can manually type any specific requirements like First Coach Star Vista or First Coach Bangsar in the 'Filters' option.

Once the bus has been confirmed, online payment has to be made. Passengers can use their Debit or Credit cards to make the payment.



Passengers will receive an online acknowledgment in the form of an e-mail on their registered e-mail accounts. Passengers must note that the payment made with redBus is safe and secure.
History of First Coach

With its commencement in the year 2004, First Coach began its operation, having only a small number of tips daily. Initially, the operator mainly provided services for luxury buses. However, First Coach has been covering and panning networks across a large number of cities within Singapore and Malaysia. This has helped the company earn popularity as well as respect in the world of travel. First Coach promises to offer its passengers a comfortable and satisfactory journey and is known for keeping this promise. They are popular for living up to customer expectations and providing high-quality bus travel services. As a result, the company has a great amount of passenger and customer loyalty across Singapore and Malaysia.

First Coach is known for being punctual, following schedule, being safe, and most importantly, being attentive to its passenger's needs. It provides passengers with a wide range of amenities, including air conditioning and televisions for each passenger. First Coach staff members are friendly and approachable. Booking a First Coach bus is made easier with the help of reliable online booking services. First Coach online booking can be made with the help of redBus.

In case of any queries, customers can contact First Coach Star Vista with the following contact details.

Amenities on the First Coach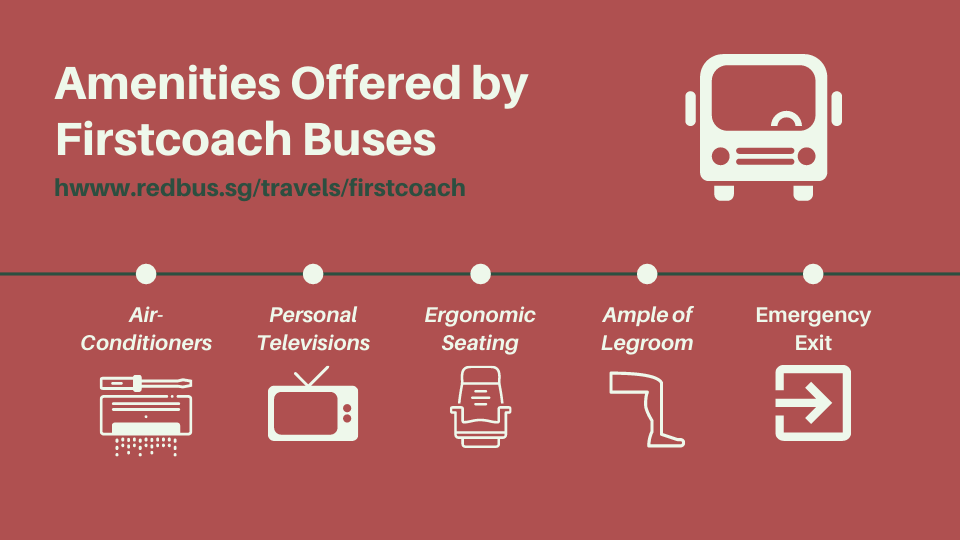 Company's motto has always been to provide comfortable, safe, convenient, and reliable journeys at affordable prices. To precisely follow the motto, First Coach brings forth all the necessary amenities required to travel on a bus. Some of the most commonly found amenities inside First Coach buses are:
Air-Conditioners

Personal Televisions

Ergonomic Seating

Ample of Legroom

First –Aid

Emergency Exit
Along with these, the staff members of First Coach are hospitable and supportive. Passengers can check these amenities on the redBus app.

Passengers need not worry about their safety on First Coach buses as the company follows the government's safety protocols. All the precautionary measures are being taken by the company seriously.
Popular Travel Routes

First Coach Buses have expansive coverage all across Malaysia and Singapore. The buses connect almost all big and small cities to each other. Passengers can commute from one location to another with luxury and comfort at an affordable price with the First Coach. All the details are properly furnished on the redBus application. Following are some of the most popular routes covered by First Coach:
Novena Square to Bangsar

Subang Parade to Star Vista

Bangsar to Singapore

Novena Square to Bandar Utama

Singapore to Subang Parade

Singapore to Kuala Lumpur

Bangsar to Novena Square

Bandar Utama to Novena Square



Passengers can book their First Coach Online tickets for these routes through the redBus app with real convenience and great offers.
Types of First Coach Buses

The First Coach started with counted buses and routes, but with time it has established a full-fledged market for itself. This is because of the services and the kind of buses it offers to the passengers. The First Coach runs only a single type of buses in its fleet, which suits all the needs of passengers' disparate interests. The type of bus available with the First Coach is:
If you are looking for a bus that is just so comfortable and is not too expensive, you should look out for the First Coach buses on the redBus application.
Popular Cities Covered

First Coach Buses cover a huge span of land and create a reticulate network for the passengers. First Coach covers almost all the major cities, and certain cities are traveled the most by these buses. Some of these popular cities served by First Coach are:
Singapore

Kuala Lumpur

Bangsar

Subang Parade



These cities are demanded the most by the passengers; therefore, passengers must make their time booking through the redBus app.

Passengers must note that bus timings, routes, and fares are subject to change. Please check locally for any last-minute changes.
Popular Destinations with the First Coach

The First Coach caters to a variety of needs and demands of its passengers. Many tourists visit Malaysia and Singapore for site-seeing, and hence, First Coach ensures that all the passengers visit all the country's major locations. Some of the popular Pilgrimage destinations covered by these buses are:

Maha Mariamman temple

Thean Hou

Batu Caves temple

Buddhist Maha Vihara



Passengers can check the availability of the seats and routes on the redBus application beforehand.
Visit www.redbus.com to know more about how to have a stress-free and comfortable journey by booking a bus ticket online in Singapore.
Disclaimer: Bus timings, routes, and fares are subject to change. Please check the redBus app or website for any last-minute changes.