Flibco Bus Tickets Online
About Flibco


If you are on tour with your kith and kin to the 'Old Continent', Europe, you don't need to worry about reaching the Airports. Flibco is considered one of the most distinguished Airport Shuttle service providing companies in Europe that connect various parts of the continent to different Airports.


They say, "Why drive when you can be dropped off?" Now you don't need someone from your family to drop you off at the airport. By using redBus, you can get the shuttle at your doorstep with just a few clicks on your smartphone. Flibco has been serving the passengers for a long time and values them.


Flibco also relieves you of the stress of driving to the Airports by scheduling the travel as per the Airlines' live status. Not only this, Flibco gives you a personal experience with unlimited access to music and even supports you if you are in your work-mode.
The company's motive is to reduce the number of vehicles on roads by promoting carpooling. Its spacious shuttles can accommodate many people.
Top Places Covered by Flibco Buses

Flibco encapsulates the major countries of Europe under the span of its functioning. Following is the list of Countries where at least or more than one bus-stops can be found:

Austria
Belgium
Bulgaria
Cyprus
Czech Republic
Denmark
France
Germany
Hungary
Iceland
Italy
Luxembourg
Netherlands
Norway
Poland
Portugal
Romania
Slovakia
Spain
Sweden
Switzerland
United Kingdom


You can reach out to the responsive and 24X7 customer support service team of Flibco by writing them to info@flibco.com any time for your queries or suggestions related to the company's services.
Amenities Offered by Flibco


Flibco has been winning the loyalty of the passengers because of the unmatchable services it provides. Owing to the current situation of Covid-19, the company has come forward with specific initiatives to contain the spread of the deadly disease. Every Flibco bus is adequately cleansed, and all the security norms issued by the regulatory Health Authorities are followed.
To experience a wonderful trip from your house or hotel to the airport, book your Flibco Airport Shuttle using redBus and get a chance to redeem various offers and schemes over your bookings.
Following is the list of amenities and services that are offered in a Flibco bus:

Ample legroom space.
Trustworthy and experienced drivers.
All the shuttles are temperature adjusted.
Compartment for hand luggage
Wi-fi
Extra space for XXL luggage.
Phone and battery charging facility.


You can book your Flibco Airport Shuttle online from the convenience of your house.


Popular Routes Covered by Flibco Buses


Almost all the routes served by Flibco are quite famous and excessively booked. Some of the popular routes covered by Flibco are:

Brussels to Charleroi
Luxembourg to Frankfurt
Bastogne to Luxembourg Airport
Ghent to Charleroi Airport

Flibco buses to and from Hahn Airport are also amongst the highly booked routes. You can collect information on any of these Airports directly through the redBus website.
Popular Cities Covered by Flibco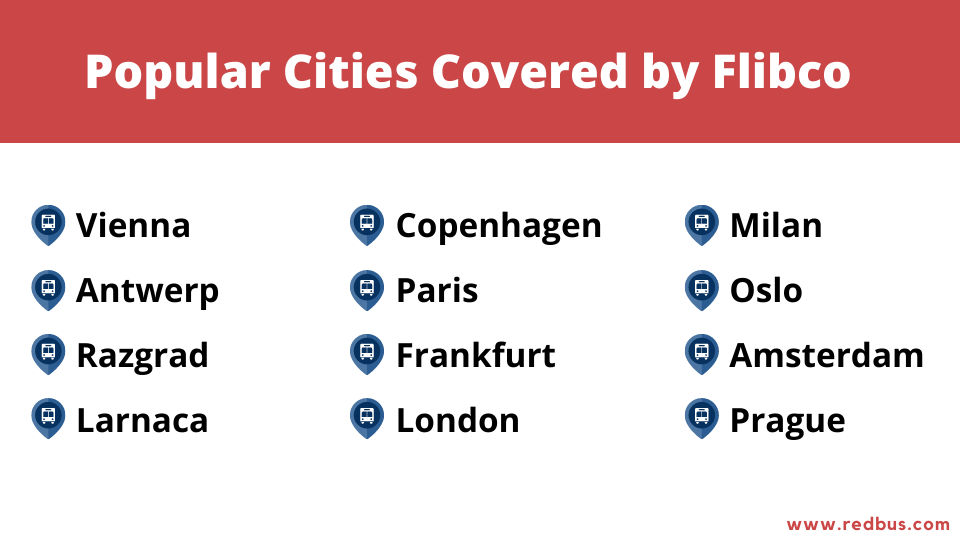 Flibco has managed to maintain a webbed network of its services throughout Europe. It almost covers all the major countries of Europe operating in many of their respective cities. Some of the cities where you can find Flibco Airport Shuttle services are:

Vienna
Antwerp
Razgrad
Larnaca
Prague
Copenhagen
Paris
Frankfurt
London
Milan
Oslo
Amsterdam


You can find Flibco bus schedules and related information conveniently for the different cities on the redBus website.
Booking Flibco Bus Tickets Online on redBus


If you think that booking a Flibco shuttle is a herculean task, then you are mistaken. On redBus, you can book Flibco tickets in just a few clicks. To book, you need to follow the steps mentioned below:
Enter the 'From' and 'To' on the home page along with the date and time of travel. Click on 'Search Buses'.
You will get a list of buses for your desired route. Filter Flibco buses from the list using the 'Bus Operator' option.
Select the bus and seats and proceed to book.
Fill in your details.
Finalize the booking by making the payment online. On redBus, you have multiple options for paying online, such as net banking, credit card, debit card, etc. You can choose any one of them.


You will receive the booking confirmation for your Flibco bus on the email ID and mobile number via email and SMS.