Karat-S (Карат-С) Bus Tickets Online
Karat S is a prominent bus operator in Bulgaria with a vast transportation network. It boasts an international presence as it provides bus services to various countries in Europe. Some of the countries served by Karat S in Europe are Bulgaria, Germany, France, Italy, Spain, etc. They also provide seasonal interurban bus services in Bulgaria whenever required. With their affordable and on-time bus services, Karat S buses are preferred by tourists as well as daily commuters.
The Karat S bus company has connected with other companies in various European countries to provide robust bus services. With their offices and point of sales in multiple locations across Europe, they can provide buses to different cities at frequent intervals. They have been servicing passengers in Europe for some time now and have gained many loyal customers. You can book Karat S bus tickets easily via the redBus website.
Address and contact no. of Karat S
The head office address of Karat S is as follows:
Sofia Central Bus Station, Blvd. 100 Knyaginya,
Maria Luisa, Bulgaria.

The contact numbers of Karat S are +359 2812 0810 and +359 2812 0812. They also have their offices in other Bulgarian cities and some European countries. You can visit their official website to know more about their contact information. You can also contact the redBus customer support for any issues/queries while booking Karat S online tickets. redBus offers 24*7 customer support to its users.
Amenities offered by Karat S
Karat S buses offer various amenities to the passengers. The popular amenities offered are as follows:

• Air conditioning
• Adjustable seats
• Snacks
• WIFI
• Restroom
• Newspaper
• Magazine


Popular routes covered by Karat S buses
Karat S buses serve many national and international routes every day. They serve 26 bus routes near the Sofia territory in Bulgaria apart from buses to other parts. Seventeen regular bus lines to various countries in Europe are also provided by this operator. You can look at the Karat S route information on the redBus online.

Some of the top bus routes served by Karat S buses are as follows:

• Plovdiv to Sofia
• Sofia to Burgas
• Sofia to Istanbul
• Vidin to Sofia
• Plovdiv to Stara Zagora
• Vratsa to Sofia
• Sofia to Montana


Types of buses offered by Karat S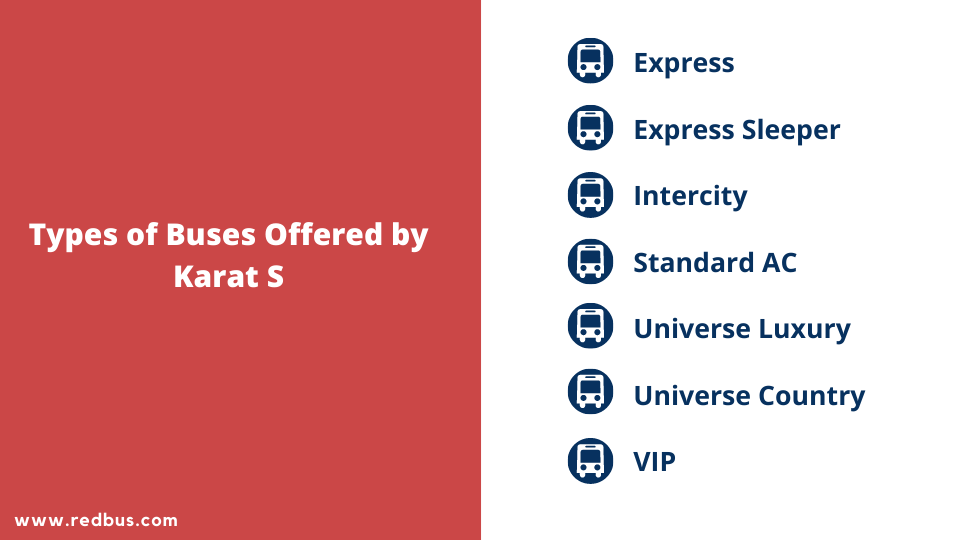 Karat S offers various types of buses for each section of society. Karat S's buses can differ according to seating capacity, amenities onboard, manufacturing, etc. You can view the image of Karat S buses on redBus before booking bus tickets online. Some of the types of buses provided by Karat S are as follows:

• Express
• Express Sleeper
• Intercity
• Standard AC
• Universe Luxury
• Universe Country
• VIP


Popular cities covered by Karat S
Karat S buses travel to various cities in Bulgaria and neighbouring countries. Besides providing buses to some of the top tourist destinations in Europe, they also provide bus services to lesser-known areas.

Some of the top cities in Europe covered by Karat S buses are as follows:
• Vienna
• Varna
• Belgrade
• Sofia
• Vidin
• Vratsa
• Karlsruhe
• Montana
• Burgas


Booking Karat S bus tickets online on redBus
Follow the steps below after opening the redBus website.

• On the homepage, enter your source, destination and travel date and click on 'Search Buses'.
• Choose a Karat S bus from the available buses on redBus. You can also filter Karat S buses from that of other operators by applying a search filter.
• Choose a seat in any Karat S bus and enter your boarding/dropping point on the next page.
• Click on the 'Proceed to Book' icon and enter the passenger details on the subsequent webpage. Enter your contact information (email-ID and phone number) and press the 'Proceed to Pay' icon.
• Complete the online payment to confirm your Karat S bus ticket booking. Your Karat S bus e-ticket/M-ticket will be sent to you via mail/SMS.