Lufthansa Express Bus Bus Tickets Online
About Lufthansa Express Bus
Lufthansa Express Bus is the initiative by Lufthansa Airlines to provide an easy commute to the airport from various parts of Germany. Their main services are available to both Munich and Frankfurt airports.


Lufthansa bus is available for all flight passengers and those going to the airports. To travel on this bus, you have to have a pre-booked seat on the bus. These buses offer both regular and point-to-point shuttle services. You can book Lufthansa bus tickets online on the redBus website easily.
Address and Contact No. of Lufthansa Express Bus
There is no specific office address for the Lufthansa bus service.
The contact details of the Lufthansa Express bus at Munich are as follows -
Service hotline: +49 89-32304-0
Email ID: info@airportbus-muenchen.de
For any queries or complaints related to online bus tickets, you can contact the 24x7 customer care service of redBus.


Popular Routes Covered by Lufthansa Express Buses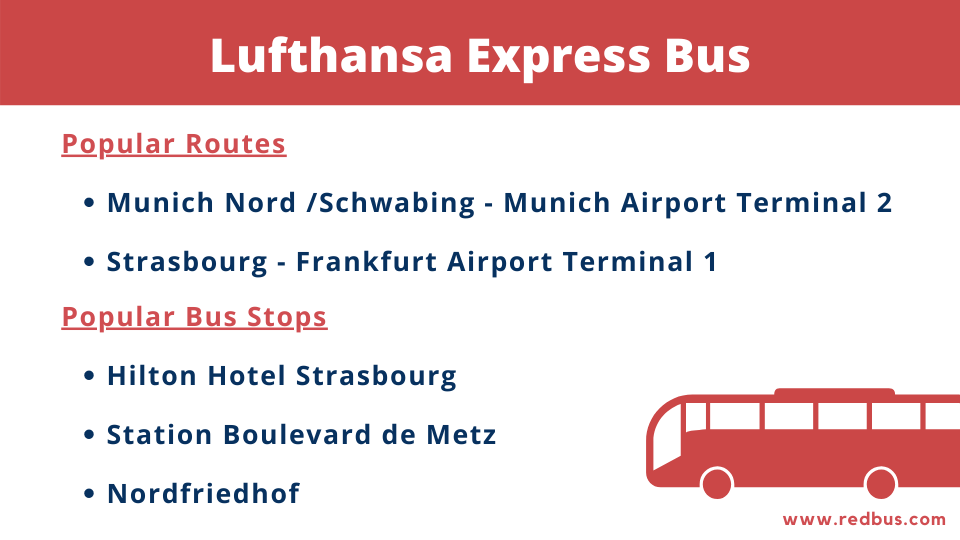 Lufthansa bus services are available at Munich airport and Frankfurt airport. The buses start from the airport to the city centre and vice versa. The popular routes are -

Munich Nord /Schwabing to Munich Airport Terminal 2
Strasbourg to Frankfurt Airport Terminal 1


How to travel by Lufthansa Express Bus

Pre Booking the seats is mandatory to travel by Lufthansa bus as getting a ticket onboard is not possible.
The confirmation that you get upon booking the seat will serve as your boarding pass for the bus.
If you have a flight booking connected to the bus time, you will get the boarding pass for both the bus and the flight separately when you check-in within 24 hrs of the departure time.
The bus boarding pass will have your boarding point and the destination for the specific time and date. Show the same while boarding the bus.
Make sure to keep the luggage in the storage area and not carry it with you inside the bus.
Buses are available at 15 minutes intervals. This time gap is now 30 minutes due to the pandemic situation.
Free WiFi and newspapers are available inside the bus.
Lufthansa Express buses are not compatible with wheelchair entry, and neither is assistance available for the bus travel.
Alight at the airport near the terminal, which is within walkable distance
There are baggage counters available at the destination terminals where you can check-in or drop the luggage.



Booking Lufthansa Express Bus Tickets Online on redBus
For booking a Lufthansa bus ticket online, visit the redBus portal
Fill in the starting and destination points and the date of travel
Choose your bus according to the convenient time
Enter passenger details
Proceed to make an online payment. Use coupon codes (if available) during this process and pay for the ticket
Receive the e-ticket/m-ticket via SMS/email.