Miccolis Spa Bus Tickets Online
About Miccolis
Miccolis is one of the oldest bus operators in Italy with its history dating back to 1929. Miccolis started its journey with just one bus that was used to transport goods on rentals. Today, it has grown a lot and has more than 200 vehicles in its fleet. The Miccolis Group is made up of various subsidiaries. The Group has multiple sub-companies that function in different sectors like energy, transport, ecology, etc. Besides providing bus transportation services to passengers, Miccolis is also involved in providing school pickup and rental services.
Miccolis has divided its bus routes across three lines. They are extra-urban lines, state lines, and urban lines. On redBus, Miccolis bus e-ticketing services are provided to passengers. All the Miccolis buses together cover around 7,000,000 KM annually. They connect various states and urban areas of Italy. Miccolis aims at providing bus services in Italy with full respect to the environment.
Besides the above offices, Miccolis has two more offices situated in Castellana Grotte and Matera. You can contact them via mail as their mail address is info@busmiccolis.it. Miccolis also interacts with its customers on Facebook and Instagram. You can also reach out to them by contacting on 0831 548209 or 080 5315334. You can also reach out to the redBus customer support executive for any issues while booking Miccolis bus tickets. redBus provides hassle-free 24*7 customer support for any problems faced during online bus ticket booking. To know more about Miccolis contact information, one can visit their official website, i.e., www.busmiccolis.it.
Amenities offered by Miccolis
Miccolis offers various bus amenities onboard to facilitate your bus journey. You can also check the amenities offered by any of their buses via redBus website during Miccolis online bus booking. The amenities listed below can differ on different Miccolis buses, so it is advised to check it on the redBus booking portal. The amenities also depend on the ticket type booked via redBus. The amenities offered by Miccolis buses are as follows:
• Luggage storage compartment
• Comfortable seats
• Toilet
• WiFi
• Air conditioners
• Stereo/video system
• Power Outlets


Popular routes covered by Miccolis buses
Miccolis buses cover various urban and state routes around Italy. You can book buses for any route offered by Miccolis via redBus. You can also view the Miccolis schedule on any preferred route via redBus website (www.redbus.com). redBus does not charge anything for viewing the bus schedule and timings. Some of the prominent routes covered by Miccolis buses are as follows:
• Bari to Matera
• Bari to Naples
• Naples to Taranto
• Salerno to Bari
• Lecce to Naples


Popular cities covered by Miccolis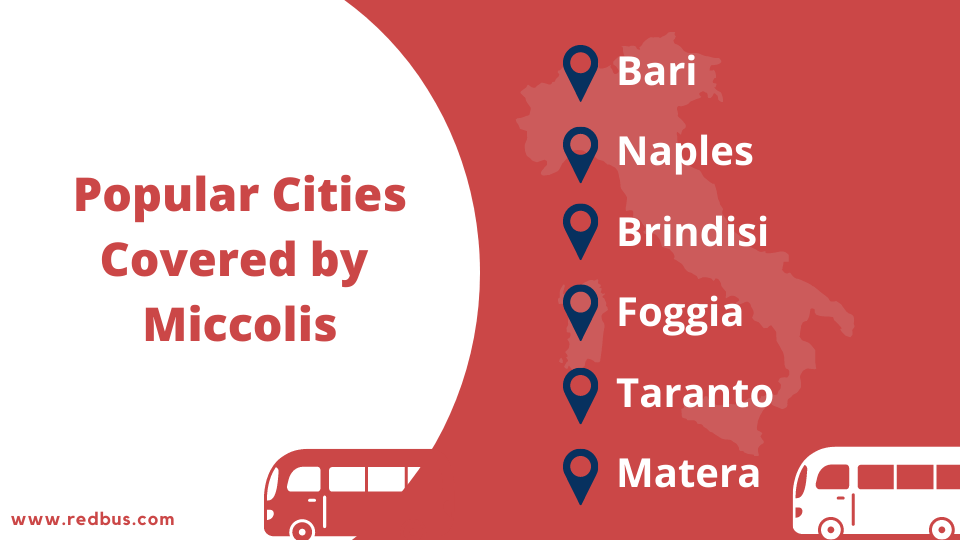 Miccolis buses are not only preferred by locals and daily commuters, but they are also recommended by foreigners who come on tour to Italy. Miccolis buses connect you to various locations in Italy for touring or commuting. With their frequent and robust bus services, they are the first choice of many passengers in Italy. Some of the top cities of Italy covered by Miccolis buses are as follows:
• Bari
• Naples
• Brindisi
• Foggia
• Taranto
• Matera


Booking Miccolis bus tickets online on redBus
You can visit its official website for booking Miccolis bus tickets online. The steps to book Miccolis bus tickets with redBus are as follows:
• On the first page, enter your source location in the 'From' section while the destination in the 'To' section. Once you have selected your route, enter the date of your journey and press the 'Search Buses' button.
• Select a Miccolis bus from the list of all the available buses displayed by the interface. You can also filter Miccolis buses from the list of available buses using the search filters on redBus. You can compare the fare, amenities offered, ratings, etc. of various Miccolis buses before selecting one.
• Select a seat on any bus and then the boarding/drop-off points. Press 'Proceed to Book' once you are done.
• Enter the passenger information and the correct contact information and click on 'Proceed to Pay'. There are various means of online payments that one can choose from on redBus.
• Complete the payment process to receive your Miccolis bus e-ticket/M-ticket. You can also apply a coupon code (if available) on redBus to lower the cost of your Miccolis bus ticket.