Panturist Bus Tickets Online
About Panturist by Arriva
Started in 1946, Panturist by Arriva, was part of the Autoreparatura to become the first company to start public transportation in Croatia. Starting with just 4 buses, this company gradually grew and founded other companies that served public transport, tourist services, maintenance services, etc., which later merged with the mother company in 2007.


In 2011, it acquitted VTV Pavlic to expand its services to the Zagreb region, and in 2013, Panturist merged into the Arriva Deutsche Bahn Group.
Today Panturist has a fleet of 110 buses with more than 700 connections across Croatia. It provides regional, national, and international bus services to France, Serbia, Germany, Slovenia, etc. You can book online bus tickets for Panturist by Arriva on the redBus website.
Address and Contact No. of Panturist by Arriva
The main registered office of Panturist by Arriva is at Osijek. The address and contact details are -
Address: Sv.L.B. Mandića 33,
31000 Osijek
Phone: +385 (0)72 660 660
Email: info@arriva.com.hr

Panturist has over 60 ticket centres spread across 30 cities in Croatia, including Zagreb, Umag, Rijeka, Split, Porec, etc. The office hours start from 6 am every day and are usually open till 10 pm. The exact timings of the various offices differ with their location. Some are open only from 8 am, and some close by 4 pm. Most offices are closed on Sundays, and only select offices operate on Saturday.
You can contact the 24x7 customer care service of redBus for any queries or complaints related to Panutist bus tickets online.
Amenities Offered by Panturist by Arriva
Panturist buses are equipped with basic amenities, which includes -

Air-conditioning
Charging ports
Toilets
Wheelchair accessibility
WiFi is selected buses or routes

The buses allow guide dogs. You can get all the details about amenities offered on Panturist by Arriva on redBus.
Popular Routes Covered by Panturist Buses
Panturist buses operate to as many as 1000 destinations as it serves both locally and internationally. The most popular routes operated by a bus of Arriva are as follows -
Rijeka – Zagreb
Rijeka – Zadar
Zagreb – Zadar
Zagreb – Split
Zagreb – Osijek
Zagreb – Pula
Split - Dubrovnik
Karlovac - Rijeka
Zagreb- Požega
Zagreb – Slavonski Brod
Zagreb – Rovinj
Zagreb – Pazin
Zagreb – Crikvenica


Types of Buses Offered by Panturist
Panturist by Arriva operates local and long-distance passengers buses, along with rental services for tourists as well. The long-distance buses and the rental buses have 59 seats with high-class amenities for comfortable travel.
The Arriva Autotrans operates public transport buses on the West Coast of Croatia, providing public transport, rental services, school transportation, and airport transfers to the various airports.
Apart from its services in Croatia, the Arriva operates in other European countries as well. The Arriva electric bus is popularly seen in the Netherlands and the UK.
The Arriva online Karta or the map allows you to take a look at their various destinations and routes.


Popular Cities Covered by Panturist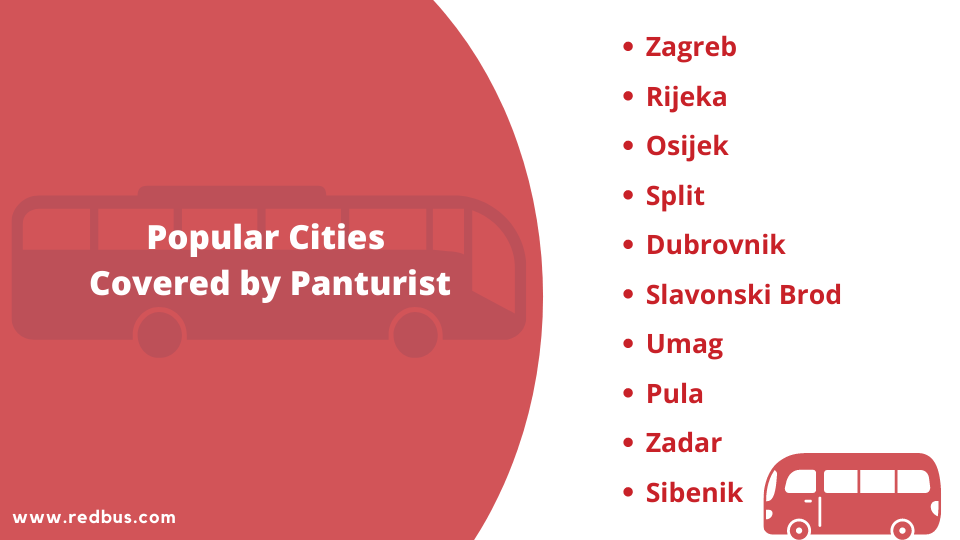 Panturist by Arriva covers almost all parts of Croatia in its network. The major cities that it operates include -
Zagreb
Rijeka
Osijek
SPlit
Dubrovnik
Slavonski Brod
Umag
Pula
Zadar
Sibenik


Booking Panturist Bus Tickets Online on redBus
redBus has made it easy for people to book Panturist bus tickets online. To book, you have to -

Enter the from and to destinations and the trip date. Click on 'Search Buses'.
You will get a list of available buses. Choose a Panturist by Arriva bus that best suits your requirements.
Select your seats, boarding and drop-off points.
Enter passengers details and proceed to pay.
You can choose an online payment method to confirm your tickets. In this step, apply a coupon code (if available) to enjoy offers on your tickets.
Once confirmed, your Panturist bus online ticket will be sent by email/SMS