Prestia e Comande Bus Tickets Online
About Prestia e Comande
In 1946, Saverio Prestia and Francesca Comande pioneered a shuttle bus to the Palermo Airport in Italy, which started as the first bus of Prestia e Comande bus company. Later, they expanded the company into the now larger fleet that serves both tourist buses and local transportation, starting from Borsellino and Palermo Falcone.
The Prestia e Comande bus service starts from morning 6 am and is available till night at 11 pm. They operate one trip every 30 minutes from these locations. They also have suburban buses that ply locally and school buses in 10 municipalities in Italy. They also invest in tourist buses that take people from one place to the other locally, nationally, and internationally. You can easily book Prestia e Comande buses online on the redBus website in a few clicks.

Address and Contact No. of Prestia e Comande
There are two offices for the Prestia e Comande bus company. The first one is the main registered office, and the other one is a small branch. The contact details of these offices are-
Office #1: Via Enrico Parisi,
4 90141 - Palermo Italy SHOP
Office #2: Piazza Domenico Peranni 9 - PALERMO
Phone: +39 091 586351
Fax: +39 091 581241

The customer care is open from Monday to Friday from 9 am to 6 pm. The working hours on Saturdays are from 9 am to 1 pm. In case of any complaints/queries during the Prestia e Comande bus online ticket booking process, you can contact the 24x7 customer care of redBus.
Amenities Offered by Prestia e Comande
The amenities offered by Prestia e Comande bus are -
Air-conditioning
WiFi onboard
Hand luggage compartment inside
Separate luggage storage
Bicycle transportation at additional fees
Heavy luggage transportation
You can find all the information related to amenities online on the redBus website.
Popular Routes Covered by Prestia e Comande Buses
Prestia e Comande buses are available at regular intervals of 30 minutes in the Palermo region, including the 10 municipalities and airport. The main routes are -
Cianciana to Palermo
S. Christiana G - Piana - Palermo
S. Stefani Q to Sciacca
Falcone Borsellino Airport

Types of Buses Offered by Prestia e Comande
Prestia e Comande company offer mainly two types of buses-
Standard buses for the local transportation
Luxurious buses for airport shuttle and tourism rentals
The rental buses are large, with ample exterior storage space. The buses have comfortable seats with 2+2 arrangement and other added benefits for the comfort of passengers.

You can find more information about the types of buses run by Prestia e Comande on the redBus website.
Popular Cities Covered by Prestia e Comande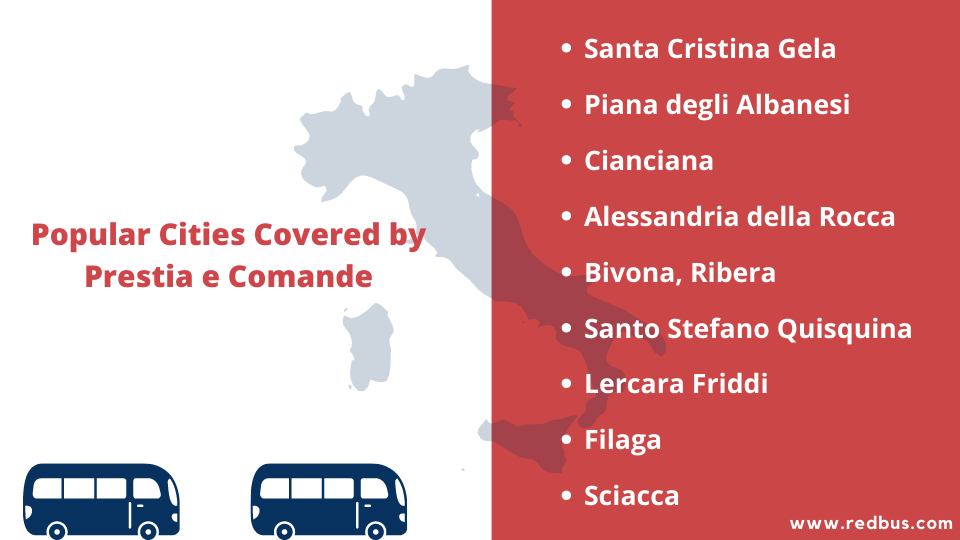 Rather than the cities, the Prestia Comande buses cover the major municipalities in the areas which include -
Santa Cristina Gela
Piana degli Albanesi
Cianciana
Alessandria della Rocca
Bivona, Ribera
Santo Stefano Quisquina
Lercara Friddi
Filaga
Sciacca

Booking Prestia e Comande Bus Tickets Online on redBus
Booking Prestia e Comande bus online tickets on redBus is very easy. You have to start by visiting the redBus website. Follow the steps below after opening the homepage.
Provide the starting and destination points along with the intended travel date to search for the buses.
The search results will show plenty of options to choose from
Choose a Prestia e Comande bus from the list of available buses. You can also sort out the Prestia e Comande buses from the list using the 'Bus Operator' filter.
After selecting a bus, choose the seats and the relevant bus stops.
Enter passenger details and proceed to checkout. Apply discount codes if you have any and pay for the tickets.
You will receive an e-ticket/m-ticket via email/SMS