Segesta Autolinee S.p.A Bus Tickets Online
About Segesta Autolinee


Segesta Autolinee is one of the most popular bus service providers in the European region. They are known for their best-in-class services. A Segesta Autolinee bus can be quickly booked using the redBus website. You can book Segesta Autolinee online bus tickets using this website without any hassle.
Segesta Autolinee buses are driven by experienced drivers who know the places in and out. They are also aware of the shortcut paths that can be taken in case there is traffic congestion. Hundreds of passengers avail the services of these buses. A Segesta Autolinee bus can be boarded from different pickup points in multiple cities. You can choose a pickup point while booking Segesta Autolinee tickets online. Their timetable is also quite comprehensive and gives you a fair idea of the number of buses that travel on a particular route.
Segesta Autolinee buses are also known to be eco-friendly given the kind of fuel they use. They also promote the idea of using a bus to save energy. You can also subscribe to a particular Segesta Autolinee bus in case you have to travel every day.
Amenities Offered by Segesta Autolinee
A Segesta Autolinee bus is known for the amenities it provides. These buses are well-equipped with several add ons that make your journey a smooth one. Some of the amenities which are readily available in Segesta Autolinee buses are:
Comfortable Seating
Reading Lights
Air conditioners
Wi-fi
Leg space


The list is not exhaustive. Several other amenities are also available on Segesta Autolinee buses. You can check out these amenities on the redBus website. In light of the COVID-19 pandemic, these buses are now being equipped with seat covers and hand sanitisers for the passengers' safety and contain the spread of the Coronavirus. Buses are being disinfected now and then so that the passengers can travel without fear.
Popular Routes Covered by Segesta Autolinee Buses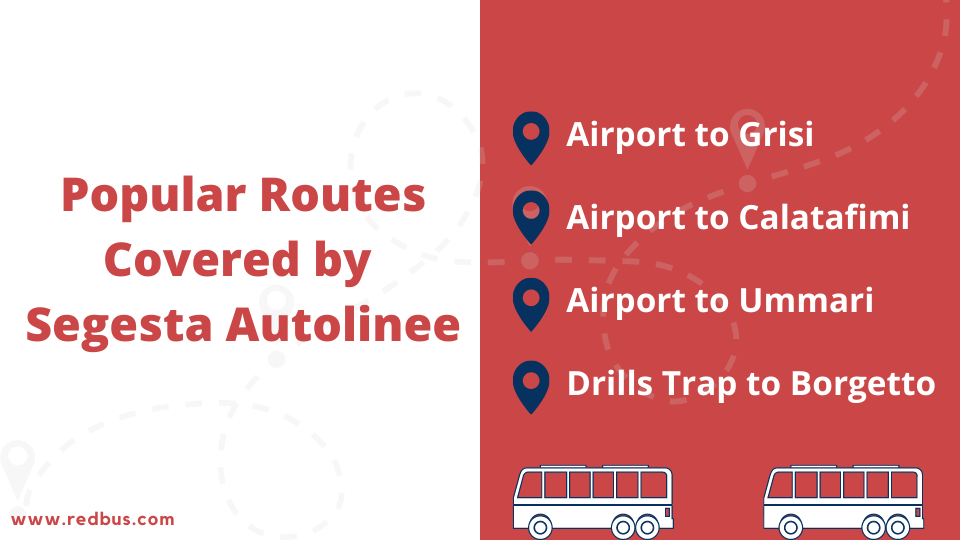 People usually travel to and fro from the airport on Segesta Autolinee buses. Some of the popular routes covered by a Segesta Autolinee bus are as:

Palermo Airport to Grisi
Palermo Airport to Calatafimi
Palermo Airport to Ummari
Drills Trap to Borgetto


There are other popular routes too. Several people buy Segesta Autolinee buses tickets regularly as these routes are quite busy and popular among the local folks.
Types of Buses Offered by Segesta Autolinee
Segesta Autolinee has different types of buses to offer. Some of the popular bus types are as follows:
Minibus
Standard Bus
Executive Bus
You can check out the redBus website for a complete list of buses.


Popular Cities Covered by Segesta Autolinee
Segesta Autolinee serves more than ten cities. All of these cities are known for being busy. Therefore, the number of passengers who board a Segesta Autolinee bus is enormous. Some of the cities covered by Segesta Autolinee buses are as follows:

Alcamo
Fulgator
Pacero
Palermo
Partinico
Borgetto
Grisi
Calatafimi
Napola
Ummari
You can check the entire list of cities on the redBus website.


Booking Segesta Autolinee Bus Tickets Online on redBus
Booking tickets using the redBus is relatively easy. redBus is a user-friendly site where everyone can easily book bus tickets. You can follow a few simple steps if you want to book tickets. Segesta Autolinee buses are booked by several passengers. Hence, the buses are readily available. To book a Segesta Autolinee bus follow the steps given below:

You can either make a redBus account or checkout as a guest. In case you already have a redBus account, use the same to book your Segesta Autolinee tickets.
Once you visit the website, add your source city and the destination city. You can then click on the search button. A list of buses will appear on your screen. You can choose your Segesta Autolinee bus from the list. You can also apply filters to customise your search.
Once you choose your Segesta Autolinee bus, you can proceed further and select your seats virtually. You can choose your desired seats based on their availability.
Once you select your Segesta Autolinee seats, you can move forward to the payment section to pay for your Segesta Autolinee tickets. redBus gives you different options to make payments for your tickets. While making the payment, you can also avail several discounts and cashback offers.

It is recommended that the passengers go through the Segesta Autolinee timetable before booking bus tickets using the redBus. It will help them in planning the trip better.