Sindbad Bus Tickets Online
About Sindbad


Sindbad is among the largest bus companies in Europe, with a network spanning across various European countries. The company started in 1983 and is one of the most experienced bus operators in the continent. They have been operating under the current brand name since 2009. They have a huge fleet size of around 200 modern coaches and are headquartered in Poland.
Some countries except Poland covered by Sindbad buses are the United Kingdom, Sweden, Switzerland, Germany, Austria, France, Spain, etc. They serve around 220 locations in Poland and around 420 locations in Europe. They have been the first choice of many tourists and daily commuters due to their affordable bus services.


You can book Sindbad bus tickets via the redBus website.
Address and contact no. of Sindbad


The headquarter address of Sindbad in Poland is as follows:
Sindbad Sp., Ul. Dzialkowa 4,
45 – 144, Opole.

The helpline (customer support) numbers of Sindbad are +48 801 22 3344 and +48 77 443 4444. The customer service of Sindbad is available from 8 AM to 10 PM. You can also contact the redBus customer support executive for any issues while booking Sindbad online tickets. redBus provides customer support services to its users throughout the day (24*7).
Amenities offered by Sindbad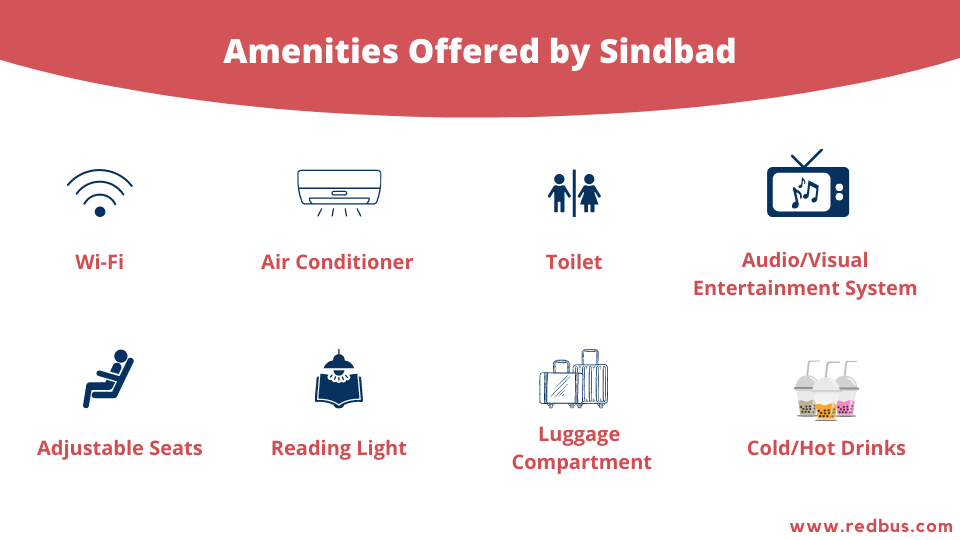 Sindbad offers a variety of bus amenities onboard to facilitate your bus journey. The amenities offered can change according to the routes, bus type, and ticket type. One can check the amenities offered by any Sindbad bus via the redBus website while booking bus tickets.


The amenities offered by Sindbad buses are as follows:

• Adjustable chairs
• Toilet
• Wifi
• Air Conditioning
• Luggage compartment
• Audio/video entertainment system
• Cold/hot drinks
• Charging ports
• Reading light


Popular routes covered by Sindbad buses


Sindbad buses provide domestic bus services in Poland as well as international bus services. You can find the Sindbad route information from the redBus platform. redBus constantly updates the route information of various operators on its portal. Besides Poland bus lines, Sindbad Eurobus (bus lines to the east) is also offered by Sindbad.


Some of the top routes covered by Sindbad buses are as follows:

• Kiev to Warsaw
• Lviv to Krakow
• Lviv to Warsaw
• Berehove to Opole
• Rottweil to Glubczyce


Types of buses offered by Sindbad


Sindbad has a huge fleet size and has around 14 different types of buses. These buses differ based on seating capacity, fare, interior, and manufacturing. You can also view the vehicle images of Sindbad before booking Sindbad online tickets via the redBus website. Some of the major types of buses provided by Sindbad are as follows:


• SETRA 515 HD
• SETRA 516 HD
• SETRA 531 DT
• SETRA 415 HD
• SETRA 416 GT HD
• SETRA 419 GT HD


Popular cities covered by Sindbad


Sindbad covers more than 400 locations across various countries in Europe. You can filter Sindbad buses to any city on the redBus website. Some of the top cities covered by Sindbad buses are as follows:

• Mikolow
• Wurzburg
• Khust
• Kviv
• Znin
• Tarnow
• Kosiv
• Boryspil


Booking Sindbad bus tickets online on redBus


The steps involved in booking Sindbad online bus tickets with redBus are as follows:

• On the first webpage, enter your source city and destination city in the 'From' and 'To' heads, respectively. Hit the 'Search Buses' button on the interface after entering the bus journey date.
• Choose a Sindbad bus from the list of available buses on your preferred route. You can also filter Sindbad buses from the list by applying the 'Bus Operator' filter on redBus.
• Select a seat in any Sindbad bus from the seat layout displayed to you and choose your boarding/drop-off point. Once you are done, tap the 'Proceed to Book' button on the interface.
• Enter the passenger and contact information on the subsequent webpage and hit the 'Proceed to Pay' button. Make sure to enter the correct contact information (phone number and e-mail ID) on redBus while booking bus tickets.
• Complete the online payment to confirm your Sindbad bus ticket. Your Sindbad e-ticket/M-ticket will be provided shortly via SMS/mail once the booking is successful.