Slovak Lines Express a.s Bus Tickets Online
About Slovak Lines


Slovak Lines is a renowned bus operator in and around Slovakia. They are also one of the oldest bus operators in Europe as its history dates back to 1949. After Czechoslovakia's Velvet Divorce, they operated under the name 'SAD Bratislava' until 2007. They have also been providing bus services under the current name for some years now. They are known for bringing innovation in transport services. They have a fleet size of more than 300 buses and constantly renew their buses.


Besides providing excellent bus services in Slovakia, they also provide vehicle repairing and maintenance services. They are well familiar with the necessary safety systems to be included in vehicles. Slovak Lines are headquartered in Bratislava and provide e-ticketing services to passengers.

Address and Contact No. of Slovak Lines


The head office address of Slovak Lines is:
Slovak Lines, Bottova 7,
811 09, Bratislava.


You can also reach out to the Slovak Lines contact center from 7 AM to 5 PM at +421 255 422 734. If passengers have to report any lost and found items on Slovak Lines buses, they can contact at +421 918 953 182 from 6 AM to 6 PM (Monday to Friday). You can also submit your query to Slovak Lines by reaching out at info@slovaklines.sk. redBus also provides customer service 24*7, and you contact the redBus customer support executive in case of any trouble while booking Slovak Lines bus tickets.
Amenities Offered by Slovak Lines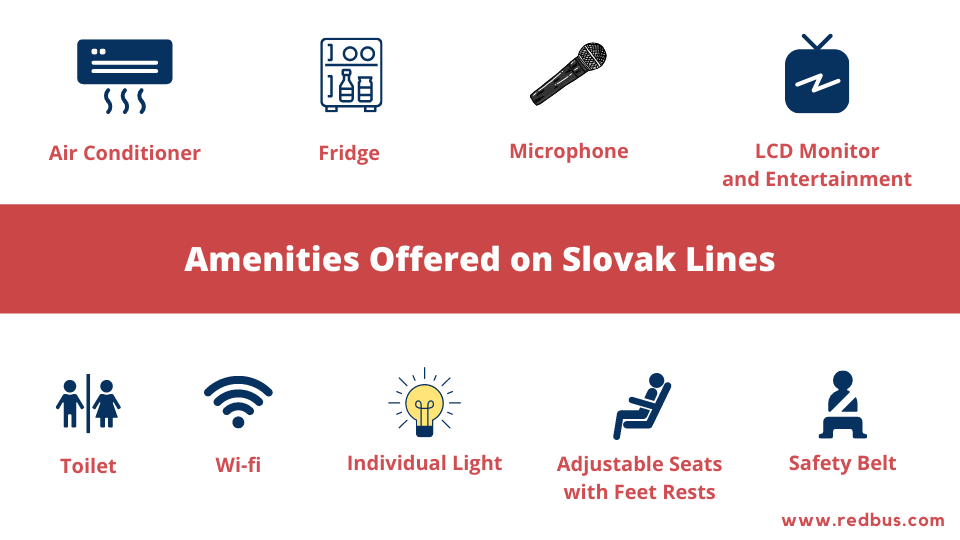 Slovak Lines provides a wide range of amenities to make your bus journey comfortable. The amenities offered vary and depend on the type of Slovak Lines bus you have chosen. They have around 620 staff members who provide a hospitable environment to passengers. The amenities offered by various Slovak Lines buses are as follows:

Air Conditioners
Toilet
Fridge
Wifi
Adjustable Seats
Feet Rests
Folding Table
Individual Lighting
Microphone
Safety Belts
LCD Monitors
Entertainment Portal

You can see the amenities offered by any bus in advance on the redBus website.
Popular Routes Covered by Slovak Lines Buses


Slovak Lines operate on around 43 regional routes only in the Bratislava region in Slovakia. The regional buses of Slovak Lines help in connecting rural and urban locations. They also have been providing low-floor bus services to various routes for physically-impaired passengers since 2013. They have around 430 skilled drivers that help in providing bus services to various routes. They have been operating on the Bratislava-Vienna route alone for more than 50 years. Some of the major routes covered by Slovak Lines buses are as follows:

Vienna to Bratislava
Bratislava to Vienna
Budapest to Bratislava


Types of Buses Offered by Slovak Lines


Slovak Lines offer various types of buses that differ in seating size and interior. Various types of Slovak Lines buses offer different sets of amenities onboard. You can see the vehicle type and image of Slovak Lines buses on redBus. Slovak Lines is known for constantly renovating its buses according to the latest safety standards. The various types of buses offered by Slovak Lines are as follows:

Iveco Crossway
Mercedes Sprinter
Setra 517 HD (59-Seater)
Setra 517 HD (57-Seater)
Setra 515 HD (49-Seater)


Popular Cities Covered by Slovak Lines


Slovakia has a perfect blend of ancient castles, landscapes, mountains, etc., that attracts a lot of tourists. Approximately 5 million people visit Slovakia annually due to its attractions. Domestic tourism is also a major source of the Slovakia tourism industry. There are around 26 objects under 7 sites in Slovakia, which are included under the UNESCO World Heritage Sites. Some of the major cities covered by Slovak Lines buses are as follows:

Vienna
Budapest
Stuhleck
Hainburg
Bratislava


Booking Slovak Lines Bus Tickets Online on redBus

To book a Slovak Lines bus tickets online on redBus, follow the steps below -

Enter your boarding and dropping city in the 'From' & 'To' sections visible on the webpage.
Enter your date of journey and click on 'Search Buses'.
A list of available buses on your entered routes and date will be displayed. You can apply an operator search filter on redBus to see only the Slovak Lines bus. Select the bus and seat.
Choose your boarding and drop-off points.
Enter the passenger details (with contact information) on the next page. Click on the 'Proceed to Pay' button.
Complete the payment process to confirm your Slovak Bus ticket booking.
M-ticket and/ or e-ticket will be sent to you redBus on successful booking. You should immediately contact customer support if you do not receive your Slovak Lines tickets on time.