Union Ivkoni Bus Tickets Online
Union Ivkoni is the biggest bus operator in Bulgaria and a leading bus transport company in Europe. Union Ivkoni was established in 1992 and since then have been serving across 150 towns in Central and Western Europe and more than 100 towns in Bulgaria. It is a renowned member of IPRU and the National Bus Association of the Bus Transport in Bulgaria. Union Ivkoni has its own tourist trademark with the name of Uni Holidays. It offers a wide variety of excursions and vacations in the country and abroad. Union Ivkoni is known for its quality travel services and has also bagged several awards for it which includes Bus Company of the Year in the International Transport area (2006-2008 and 2010), Best Trade Mark in Transport (2011), Bus Company of the Year award (2011), Bus Driver of the Year award (2012), and so on.


Address and Contact Number of Union Ivkoni

Union Ivkoni has offices both in Bulgaria and abroad. Passengers can get in touch with the company in Bulgaria on the following address:

Ticket office 88
Serdika bus station
102 Kniaginya Mariya Luiza" Str.
Sofia
Burgas South 5
Garou Square, Bus Station South
Burgas
You can also call Union Ivkoni on the following numbers:
+359/2 989 00 00 (Bulgaria)
+359/888 838 838 (Bulgaria)
00359 888 838 838 (International)
0044 740 492 79 48 (International)

Amenities Offered by Union Ivkoni
Union Ivkoni International offers many different amenities to passengers for a comfortable bus journey. Information related to facilities provided on the individual bus can be accessed while booking your Union Ivkoni online tickets. Some of these amenities can include:

Wifi
Air Conditioning
Emergency Exit
Power Outlet
Onboard Restroom
Comfortable Seats
24/7 Customer Support


Popular Routes Covered by Union Ivkoni

Ivkoni buses travel on various routes in and outside Bulgaria which include but not limited to:

Sofia to Plovdiv
Sofia to Pleven
Sofia to Ruse
Ruse to Sofia
Plovdiv to Sofia
London to Paris
Stara Zagora to Sofia
Barcelona to Nice
Burgas to Sofia
Sofia to Sliven
Varna to Sofia
Sofia to Kazanlak
Marseille to Barcelona


Types of Buses Offered by Union Ivkoni

There are various buses by Union Ivkoni that travel day in and out fulfilling the different travel requirements of people. In addition to the regular bus service, the company also offers bus rentals and bus tours to domestic and international destinations. Union Ivkoni has different types of buses which comprise:

Mini Bus
Midi Bus
Bus
Multi-seat Bus

All these bus types are available in three different age categories as per the production date. These buses are also affordable and frequent, helping passengers with their travel journeys. The ample number of good Union Ivkoni reviews are proof of the excellent services of the company. Moreover, redBus offers various discounts on online bus booking of Union Ivkoni which makes the travel experience of passengers even more fulfilling.
Popular Cities Covered by Union Ivkoni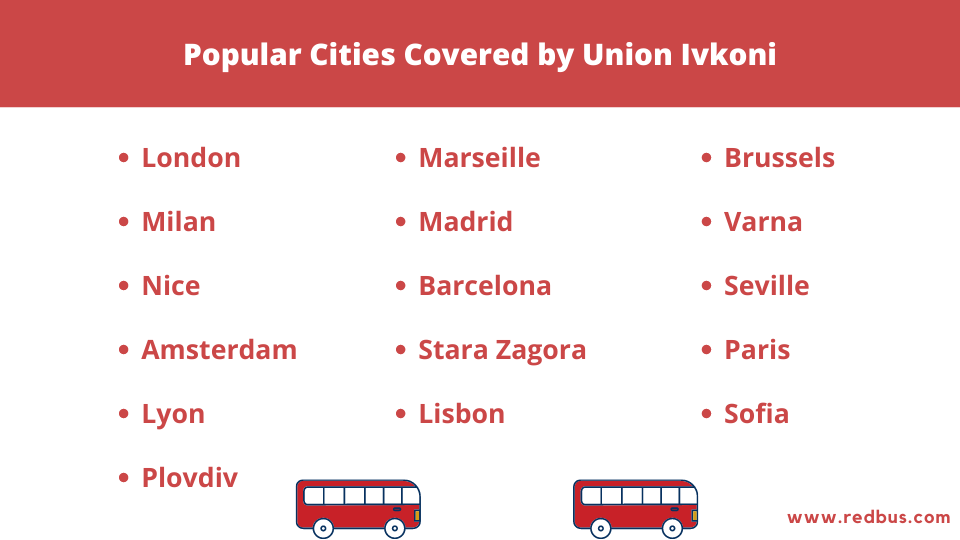 Union Ivkoni buses travel to numerous cities and transport passengers from different corners of Bulgaria and Europe to their desired destination. Some of the popular cities where Ivkoni buses provide its services are as follows:

London
Milan
Nice
Amsterdam
Lyon
Brussels
Varna
Seville
Paris
Sofia
Plovdiv
Marseille
Madrid
Barcelona
Stara Zagora
Lisbon


Booking Union Ivkoni Bus Tickets Online on redBus
redBus has made the Union Ivkoni online tickets booking process quite simple. All you have to do is follow the given steps chronologically and book your Union Ivkoni bus tickets in minutes.

Enter your source and destination location along with the journey dates.
Click the 'Search Buses' button.
You will be provided with a list of available buses as per your requirements.
To view Union Ivkoni buses, select the 'Operator' tab on the left side of the webpage and choose 'Union Ivkoni'. Click 'Apply'.
On the website, click on 'Sort & Filter' tab and select 'Bus Operator'. Now choose 'Union Ivkoni' from the available options and click 'Apply'.
Select a suitable bus from the listed Union Ivkoni buses.
Choose your seats, boarding and drop-off points.
Click the 'Proceed to Book' button.
Fill the passengers' details form.
Click on the 'Proceed to Pay' tab.
If you have a coupon code, apply it.
Select a payment method from the debit card, credit card, online wallets, and net banking and pay the amount.

Once done, you will receive your e-ticket or m-ticket on the email or SMS through phone number and email id provided during the booking process. You can directly board the bus by showing the digital ticket on your phone.