Malacca Bus Tickets
Although not a much-visited place, there's so much to see and do in Malacca! The best part is that it is only a few bus ride hours from Kuala Lumpur and Singapore. Thus, it makes it a perfect destination for a long weekend. Also known as Melaka, this place was declared a UNESCO World Heritage site in 2008. You will find several cultures here, and while the city is relatively modern, the architecture is old and magnificent. Malacca has a huge influence from the Portuguese, the Dutch, and the English. This makes the place an interesting visit for curious people about the diverse history and unique cultures.
Many visit it simply to enjoy the beaches, but once you start exploring, Malacca has much more to offer to the tourists. You can just walk around freely and discover small eateries, shops, and tourist attractions! Don't miss out on the famous churches and mosques there. First, let's talk about getting a bus to Malacca easily and at a cheaper rate.
Getting in and around Malacca via Bus
Anyone who has visited Malaysia knows that the best way to explore the cities is by bus! In fact, the local transportation system is so convenient and affordable that tourists always opt for it. So, when talking about Malacca, one of the best ways to get here is by bus. You can take a bus to Malacca from Kuala Lumpur or even from Singapore and reach the place within hours! Since the place does not have an airport, taking a bus to Malacca is the next best thing, and it will be good for your pockets as well.
No matter where you are taking a bus from, there are several boarding and dropping off points in Malacca. This makes it easier for tourists to choose a convenient point closest to their hotel or the nearest attraction. But, the two most popular bus terminals are Melaka Sentral and Kandang.
Pick-up and Drop-off Points for the bus to Malacca: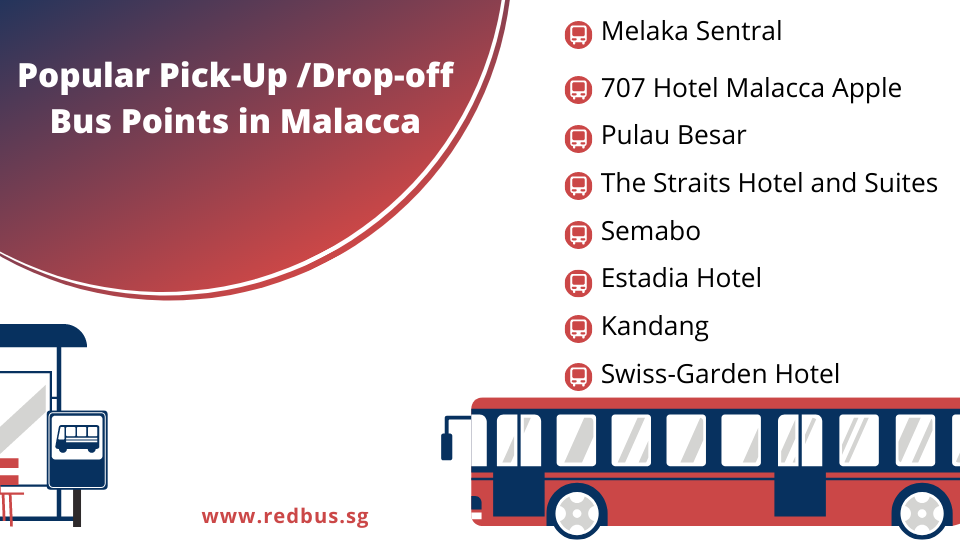 As mentioned earlier, a bus to Melaka or Malacca has several pick-ups and drop-off points. While the main terminal is called Melaka Sentral, you can find the most convenient point for you. Other than this, some other popular pick-up/drop-off points are.
707 Hotel Malacca Apple

Pulau Besar

The Straits Hotel and Suites

Semabo

Estadia Hotel

Kandang

Swiss-Garden Hotel
Please note that there are many points which you can choose according to your preferences. Thus, it is best to go to the redBus website or app and book, keeping in mind your convenience for your bus to Melaka.
Popular Bus Companies in Malacca
While cutting your bus ticket to Malacca, you will get several options for bus companies. Each offers different amenities and also has diverse drop-off points for their passengers. The most popular ones going to and from this location are as follows:
KPB Ekspress

Delima Express

KKKL Express

Maraliner

Perdana Express

City Express

707-Inc
As we mentioned earlier, several other buses are running to and from this place. You can choose to take a coach to Malacca or even a luxury coach to Malacca. It will be best to go to the redBus app or website and choose the one with all the facilities you want to ensure a safe and comfortable trip for you.
Things to do in Malacca
Once you have booked your bus ticket to Malacca, it is time to plan your perfect itinerary. There are so many things to do in Malacca that you'd want to stay there for more than just the weekend. While in Malacca, you will stumble upon colonial architecture, churches, temples, mosques, unique stores, and great eateries. But, the most iconic thing to do there is to visit the landmark of Stadthuys. Built upon a Portuguese Fort's ruins, this is believed to be the oldest Dutch buildings in all of Asia.
Next up, the arguably most-talked-about attraction is surely Masjid Selat Melaka. You should visit this in the late afternoon before sunset to look at the beautiful colors and magnificent architecture. If you want to see more religious places, there are plenty of Chinese temples along Jonker Street. You can see the Sri Poyatha Moorthi Temple on Jalan Tukang Besi, which is the oldest Hindu temple in Malaysia.
No trip is complete without the local food. So try out the Nyonya traditional dishes while you're up there! Few other things you could do in Malacca are:
Take a cruise on the Malacca River.

Admire the street art.

See the Sultanate Palace.

Experience the Jonker Night Market.
So what are you waiting for? Without further ado, go to the redBus website or app and book a coach to Malacca or even a luxury coach to Malacca and start the trip of your lifetime! With redBus you are sure to get the best discounts and get an affordable bus to Malacca with all the best facilities.