Book a Bus in Spain with redBus
Are you planning a visit to Spain? Choose a bus in Spain as your travelling option to leisurely explore this destination and check out its various tourist attractions. Spain is a beautiful country with lovely scenic views. There is so much to check out and enjoy, and the bus seems to be the best option to travel across the country. With time, bus travel has become very fast, easy, and convenient. Online bus booking has made the entire process faster and convenient for discerning travellers. Online bus ticket booking takes hardly a few minutes.
Easy and Hassle-free Online Bus Ticket Booking
If you plan to visit Spain, redBus is your best companion for a fast and hassle-free booking. Here, you can easily check out different types of buses in Spain plying their services to various parts of the country. Follow the simple to understand, step-by-step process of booking buses in Spain. There is also no shortage of luxury coaches available that suits your travel time and budget. It has simplified the ticket booking procedure to encourage people to use bus services for travelling. Here are the steps to book bus tickets in Barcelona and other cities of Spain online-
Check out "From" and "To" Tabs to look for arrival and departure times.
Enter the date you wish to travel and press enter or search button.
Use the Filter option and choose from among several bus options available with redBus.
The website also has a sort option using which suitable buses can be selected.
Once you have chosen the type of bus you would like to travel in, move on to the payment gateway.
The payment gateway is completely safe and secure and offers several payment options.
Choose an option that is suitable for you. Make a payment, share relevant details, and your bus ticket is booked.


Top Bus Operators in Spain
A majority of bus operators in Spain are closely associated with redBus. redBus is a prominent public transport service provider in Spain. There is a voluminous list of Spain bus operators. When booking an online bus ticket on redBus, you will come across most of them. Irrespective of redBus coaches to Spain chosen by you, you will get high-end services and amenities to make your travel comfortable and pleasant. redBus focuses on constant improvement in the services offered. The journey is convenient, and facilities onboard have also improved to a significant extent. redBus offers its services on major routes in Spain. A lot of bus operators offer their services to Barcelona, Madrid, and other cities. It has an extensive network of Spain buses, making travel more comfortable and no longer cumbersome for travellers. Services available when travelling with redBus Spain are-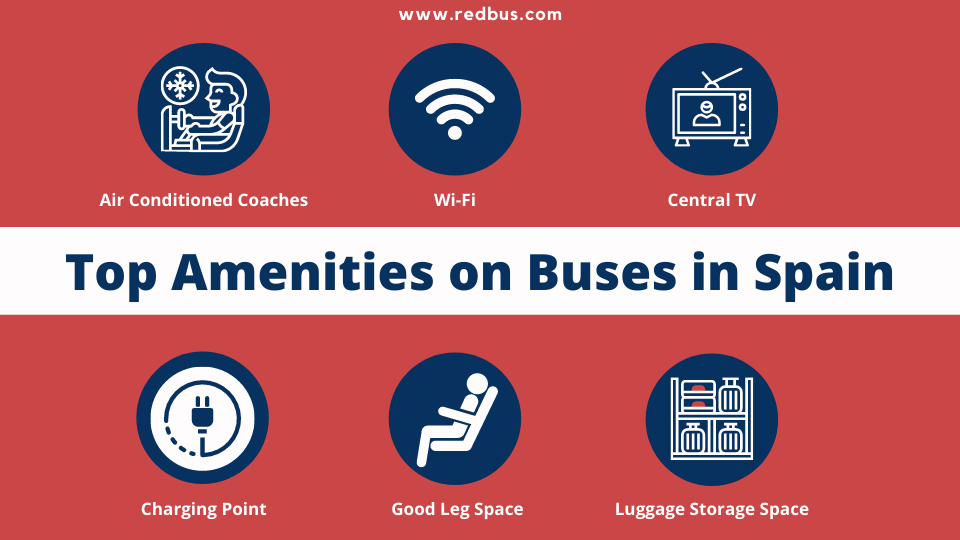 Air-conditioned coaches
Wi-Fi Facility
Central TV For Entertainment
Charging Points
Good Leg Space
Ample Luggage Storage Space


Choose buses using the filter option and enjoy these fantastic services and a pleasant journey.


Top Bus Routes in Spain
Choose redBus as your travel companion and enjoy exploring Spain to your heart's content. Bus services on redBus cover a lot of cities and ply on some of the major routes in Spain. Some of the most popular bus routes in Spain include:
Madrid to Barcelona
Madrid to Alicante
Madrid to Paris
Barcelona to Madrid
Adolfo Suarez Madrid-Barajas Airport to Salamanca
Adolfo Suarez Madrid-Barajas Airport to Bilbao
Adolfo Suarez Madrid-Barajas Airport to Valencia


Many of the bus routes in Spain start from the northeastern city of Barcelona and Madrid. Buses in Barcelona and Madrid can be easily booked by using the redBus platform. All these routes have multiple pick-up and drop-off points for the convenience of travellers. Choose to board the bus from any pick-up point and deboard at the drop-off convenient to you.
Popular Bus Terminals in Spain
There are several popular bus terminals in Spain. Some of these are Madrid, South Station Bus Terminal, Madrid Interchange Avenida de America Bus Terminal, and more. One will also find several bus terminals while booking an online bus to Barcelona in Spain. These bus terminals are the best places to board the bus. Similarly, travellers can choose to deboard at these bus terminals instead of drop-off points when selecting a Spain bus. These terminals are clean, posh, and have the necessary infrastructure to offer extensive facilities and services to their passengers travelling to and fro in Spain. Some other popular bus terminals in Spain are-
CTSA Portillo: Malaga
Comes:Cadiz, Jerez de le Fontera, Sevilla
Daibus: Madrid